Your donations help keep this site running,
thank you very much for the support!

Taking Chances - Stories and outtakes by
Evenstar
[ - ]
Summary: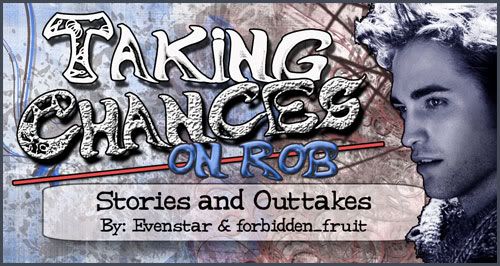 rn
---
rnAs the new star of Hollywood, nothing is as easy and simple as it once was. While trying to tackle fame, media and people expectations, - emotional attachment is the last thing Robert needs. Despite this, he finds himself completely unable to resist Miranda's brave invite – "I was wondering if I would be brave enough to seduce you" when he's back in London for a short visit. By the time he has to leave to go back to L.A. they both know it's too late to pretend it meant nothing, but too early to make any promises. Taking Chances is filled with lust, angst, misunderstandings, love joy and heartache. We hope you enjoy reading as much as we enjoy writing. // Kristina and Rachel
Categories:
Other
Characters:
Robert Pattinson
Parent Series:
None
Stories:
2
Series Type:
Moderated
Taking Chances
by
Evenstar
Rated:
NC-17
[
Reviews
-
1312
]
Summary:
Amazing new banner by SoapyMayhem!!!! Thank you so much sweetie! You're fantastic!
Summary:
Robert has two more days in London before he has to return to his hectic life in LA. He has no intention of letting himself anywhere near emotional attachment. Despite this, he finds himself unable to resist the brave invite of a beautiful girl at a nightclub in Soho, thinking it would be a one night thing only.
Join us in the forum (Others)for chapter teasers, discussions or if you just want to say hi :)
Categories:
Other
Characters:
Other Character
,
Robert Pattinson
Challenges:
Series:
Taking Chances - Stories and outtakes
Chapters:
32
Completed:
Yes
Word count:
289305
[Report This] Published:
February 22, 2009
Updated:
May 05, 2011
---



© 2008, 2009 Twilighted Enterprises, LLC. All Rights Reserved.
Unauthorized duplication is a violation of applicable laws.
Privacy Policy | Terms of Service


All publicly recognizable characters, settings, etc. are the intellectual property of their respective owners. The original characters and plot are the property of Stephenie Meyer. No copyright infringement is intended.