Your donations help keep this site running,
thank you very much for the support!

Penname:
pseudowolf [
Contact
]
Real name:
Liz
Status:
Member
Member Since:
January 07, 2010
Website:
Beta-reader:


[
Report This
]
Solstice
by
pseudowolf
Rated:
NC-17
[
Reviews
-
165
]
Summary: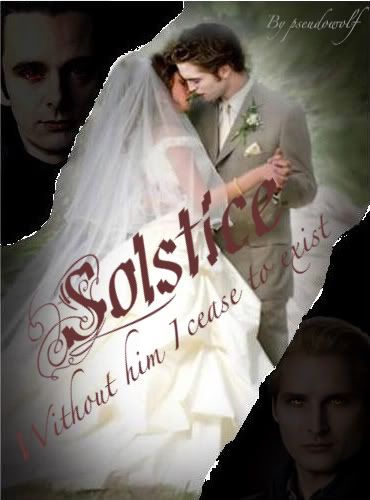 Candy, flowers and my immense gratitude to mkystich for the most awesome of banners!! And a special thanks to my personal IT guru shyguyunlimitd for help in posting.
Bella and Edward are planning to marry but not all of the Cullens are happy about it. When the Volturi hear of the potential demise of such a strong coven, they swoop in looking for leftover trophies for Aro's collection.
Canon pairings. Rated for lemons.
Categories:
Post-Eclipse
Characters:
Bella
,
Edward
Challenges:
Series:
None
Chapters:
17
Completed:
No
Word count:
83785
[Report This] Published:
January 16, 2010
Updated:
July 14, 2013
---



© 2008, 2009 Twilighted Enterprises, LLC. All Rights Reserved.
Unauthorized duplication is a violation of applicable laws.
Privacy Policy | Terms of Service


All publicly recognizable characters, settings, etc. are the intellectual property of their respective owners. The original characters and plot are the property of Stephenie Meyer. No copyright infringement is intended.