Your donations help keep this site running,
thank you very much for the support!

Penname:
Robicorn [
Contact
]
Real name:
Amy
Status:
Member
Member Since:
December 12, 2009
Website:
Beta-reader:






Rob Gives me Unicorns!



[
Report This
]
A Perfect Love
by
Robinated
Rated:
NC-17
[
Reviews
-
78
]
Summary:
27-year-old single father, Dr. Edward Cullen, gets more than he bargains for when he meets his sister's college roommate, 19-year-old Bella, during the Thanksgiving holiday. How will they handle things when the weekend comes to an end, and Bella must return to Philadelphia, and back to the secret she has been hiding from everyone?

Categories:
AU-Human
Characters:
Alice
,
Bella
,
Edward
,
Jasper
Challenges:
Series:
None
Chapters:
3
Completed:
No
Word count:
19046
[Report This] Published:
December 12, 2009
Updated:
January 05, 2010
Let Your Mercy Fall on Me
by
Robicorn
Rated:
NC-17
[
Reviews
-
27
]
Summary:
What happens when bad girl Bella is forced to attend church when her newly saved mother forces her to go? What happens when the handsome Youth Pastor, Edward, catches Bella's eye? She puts into effect Operation Seduce Mr. Innocent. Will Edward fall from grace when Bella temps him with her forbidden fruit?
Please be aware this story makes references to religious themes and mature themes.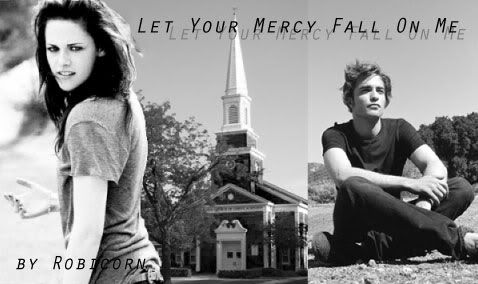 Categories:
AU-Human
Characters:
Edward
Challenges:
Series:
None
Chapters:
2
Completed:
No
Word count:
3691
[Report This] Published:
December 12, 2009
Updated:
December 29, 2009
---



© 2008, 2009 Twilighted Enterprises, LLC. All Rights Reserved.
Unauthorized duplication is a violation of applicable laws.
Privacy Policy | Terms of Service


All publicly recognizable characters, settings, etc. are the intellectual property of their respective owners. The original characters and plot are the property of Stephenie Meyer. No copyright infringement is intended.