Your donations help keep this site running,
thank you very much for the support!

Penname:
MissManda [
Contact
]
Real name:
Manda
Status:
Member
Member Since:
December 07, 2009
Website:
Beta-reader:
No
... You know, I write or something. I'm almost done with college, probably on teh edge of too old for this, but it makes me happy :)



[
Report This
]
Mary Alice, Full of grace
by
MissManda
Rated:
R
[
Reviews
-
223
]
Summary:
This is my AWESOME BANNER from FrozenSoldier!!! Thanks FS!!!!!
Pre-Twilight, a twist in fate allows Alice to remember her childhood.
She remembers when the visions started, her family, and a dark moment of her past that makes meeting Jasper more eventful. Jasper's violent past and restless future beg her to tread lightly around this stranger. Will she be able to dig deep enough to find the gentle soul in there somewhere? Or will she scare herself away from the only one who can help her heal? Will they learn to trust one another and the family in her visions, or will things once again spiral out of control?
---
**Warning- contains allusion to childhood sexual abuse, please don't read if you are sensitive to that topic.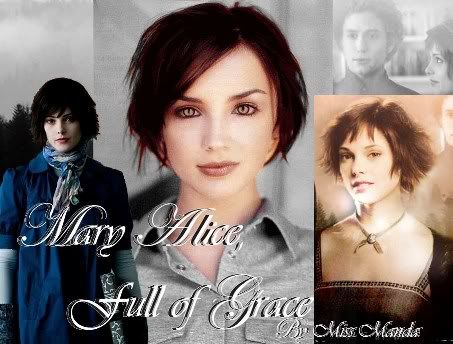 Categories:
Pre-Twilight
,
AU
Characters:
Alice
,
Jasper
Challenges:
Series:
Eternal Hope: The Alice and Jasper Archive
Chapters:
44
Completed:
No
Word count:
174654
[Report This] Published:
January 28, 2010
Updated:
December 05, 2012
---



© 2008, 2009 Twilighted Enterprises, LLC. All Rights Reserved.
Unauthorized duplication is a violation of applicable laws.
Privacy Policy | Terms of Service


All publicly recognizable characters, settings, etc. are the intellectual property of their respective owners. The original characters and plot are the property of Stephenie Meyer. No copyright infringement is intended.