Your donations help keep this site running,
thank you very much for the support!

Penname:
jennlynnfs [
Contact
]
Real name:
Jenn
Status:
Member
Member Since:
July 03, 2008
Website:
Beta-reader:
I'm really not that interesting. :)



[
Report This
]
My Brother's Best Friend
by
jennlynnfs
Rated:
NC-17
[
Reviews
-
1224
]
Summary:
Seven years have passed since Edward and Bella last saw each other. They grew up as children and even became good friends. Once they entered high school, Edward became distant and eventually severed all ties with her. Confused and hurt, Bella moved on with her life in Seattle.Through it all, Bella had her older brother Emmett to get past the estrangement. Now, with Edward's imminent return to Seattle to help out with his sister Alice's wedding, Bella can't help wondering what drove away her brother's best friend all those years ago.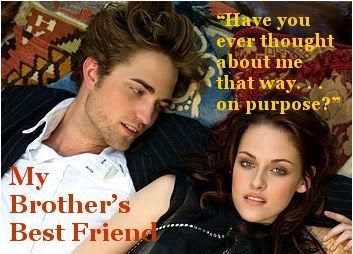 Nominated for Best Novel-Incomplete at the Eddie and Bellie Awards.
http://www.thecatt.net/tw/Vote/aspx
Categories:
AU-Human
Characters:
Bella
,
Edward
Challenges:
Series:
Always Human
,
SMUT - Best of the Best - Edward and Bella
Chapters:
36
Completed:
Yes
Word count:
247400
[Report This] Published:
July 14, 2008
Updated:
February 28, 2010
Boycotting Valentine's Day
by
jennlynnfs
Rated:
NC-17
[
Reviews
-
116
]
Summary:
Some women have trouble finding guys, Bella has the opposite problem. When Valentine's Day approaches, her prospective suitors turn up their game, hoping to be her Valentine. Instead, Bella chooses to hang out with her best friend Alice and they both decide to boycott Valentine's Day. A weekend of non-Valentine's Day activities are lined up including no guys allowed. But, surely Alice's brothers, Edward and Emmett, don't count, right?
Categories:
Twilight
,
AU-Human
Characters:
Bella
,
Edward
Challenges:
Series:
None
Chapters:
7
Completed:
Yes
Word count:
33267
[Report This] Published:
January 19, 2010
Updated:
February 15, 2010
---



© 2008, 2009 Twilighted Enterprises, LLC. All Rights Reserved.
Unauthorized duplication is a violation of applicable laws.
Privacy Policy | Terms of Service


All publicly recognizable characters, settings, etc. are the intellectual property of their respective owners. The original characters and plot are the property of Stephenie Meyer. No copyright infringement is intended.