Your donations help keep this site running,
thank you very much for the support!

Penname:
Lostatsea [
Contact
]
Real name:
Status:
Member
Member Since:
January 01, 2009
Website:
Beta-reader:


[
Report This
]
A Tale of Two Families
by
Lostatsea
Rated:
NC-17
[
Reviews
-
256
]
Summary:
The Cullens and the Hales are rival families in Forks High School, and everyone knows it. Every student to pass through the doors has known to pick a family to side with, and stay loyal to that family. That is, until Isabella Swan arrives, and her decision becomes increasingly more important.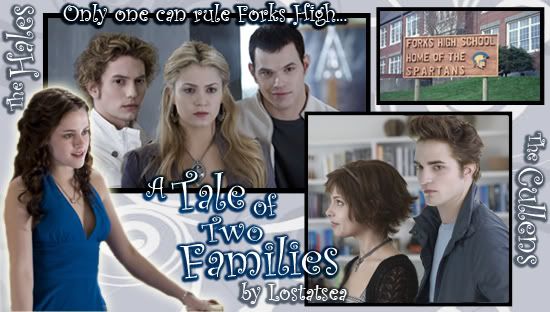 Huge thanks to m81170 for the awesome banner.
Categories:
AU-Human
Characters:
Alice
,
Bella
,
Edward
,
Jasper
,
Rosalie
Challenges:
Series:
None
Chapters:
11
Completed:
No
Word count:
38173
[Report This] Published:
February 10, 2009
Updated:
May 27, 2009
---



© 2008, 2009 Twilighted Enterprises, LLC. All Rights Reserved.
Unauthorized duplication is a violation of applicable laws.
Privacy Policy | Terms of Service


All publicly recognizable characters, settings, etc. are the intellectual property of their respective owners. The original characters and plot are the property of Stephenie Meyer. No copyright infringement is intended.