Your donations help keep this site running,
thank you very much for the support!

Penname:
La_Tua_Cantante_83 [
Contact
]
Real name:
Kitty
Status:
Member
Member Since:
October 30, 2009
Website:
http://www.fanfiction.net/u/1039230/La_Tua_Cantante_83
Beta-reader:
I am a 20-something mom and wife with an English-Writing & History degree, who stumbled upon a little thing called Twilight. I fell in love, and the rest is history!




Instead of using my very expensive writing degree to make money, I currently immerse myself in fanfic.




Hopefully you like, and I'd love to hear from you!






[
Report This
]
Entwined
by
La_Tua_Cantante_83
Rated:
NC-17
[
Reviews
-
523
]
Summary: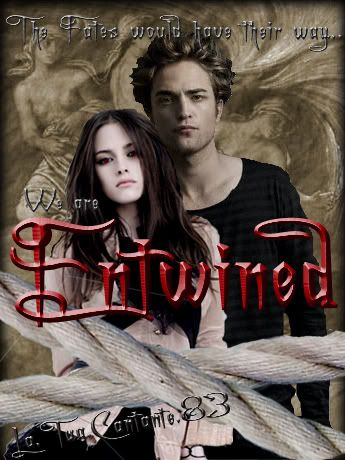 Six months ago, Edward Cullen left Forks, trying to escape the bloodlust that was sure to be his downfall. Now he's returned, only to find that he can never truly escape what the Fate's have destined for him. Together with the one whose fate is twisted with his, he must find a way to protect what matters most. Rated Mature. Vamp, AU.
Categories:
Twilight
,
AU
Characters:
Bella
,
Edward
Challenges:
Series:
None
Chapters:
28
Completed:
No
Word count:
220424
[Report This] Published:
February 28, 2010
Updated:
November 18, 2012
Best Laid Plans
by
La_Tua_Cantante_83
Rated:
R
[
Reviews
-
244
]
Summary:
What if Bella's decision to choose Edward over Jacob had not been so sure? What if she couldn't bear to break Jacob's heart? Would she choose a different path to satisfy the needs she never knew she had? Will her choices ruin everything that she's fought so hard to protect? Set at the end of Eclipse, after Bella tells Jacob of her need for Edward, she makes a plan that could put everything in jeopardy. An Edward & Bella story, with a little Jacob confusion & angst thrown in. I promise Edward/Bella fans, if you stick with me, you'll be happy. RATED R for language and suggestive themes.
Categories:
Eclipse
,
AU
Characters:
Bella
,
Edward
,
Jacob
Challenges:
Series:
None
Chapters:
19
Completed:
Yes
Word count:
136872
[Report This] Published:
October 30, 2009
Updated:
February 21, 2010
---



© 2008, 2009 Twilighted Enterprises, LLC. All Rights Reserved.
Unauthorized duplication is a violation of applicable laws.
Privacy Policy | Terms of Service


All publicly recognizable characters, settings, etc. are the intellectual property of their respective owners. The original characters and plot are the property of Stephenie Meyer. No copyright infringement is intended.