Your donations help keep this site running,
thank you very much for the support!

Penname:
MiddleMarchEliot [
Contact
]
Real name:
Dee
Status:
Member
Member Since:
October 23, 2009
Website:
Beta-reader:
MiddleMarchEliot is a twentysomething actress residing in south Florida and currently seeking her masters in English Lit with plans to teach.




She recently started writing and finds it to be one of many passions she has. She's always had stories formulating in her head at a very young age and sadly, only until now have has decided to put her thoughts and ideas on paper (or computer to be more exact).



[
Report This
]
Black Coffee and Eggs Over Easy
by
MiddleMarchEliot
Rated:
NC-17
[
Reviews
-
125
]
Summary:
Twenty-five year old obsessive compulsive Bella Swan agrees, rather reluctantly, to seek therapy for her habits as well as her sporadic bouts of depression after her father welcomes her into his home in Forks when her problems become too much for her mother to handle. But will her sudden attraction to a greasy, dirty, car mechanic intensify her already obvious phobias or will he be able to break down the barriers she has formed around herself?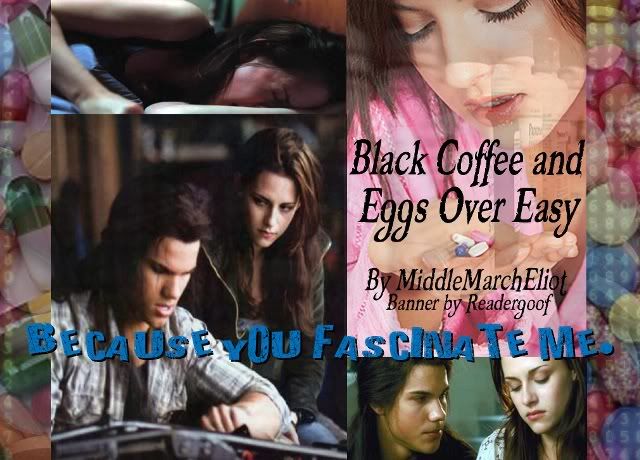 Categories:
AU-Human
Characters:
Bella
,
Jacob
Challenges:
Series:
The Bella and Jacob Chronicles
Chapters:
15
Completed:
No
Word count:
72862
[Report This] Published:
December 28, 2009
Updated:
December 14, 2010
The Candy Shop in Barlow
by
MiddleMarchEliot
Rated:
PG-13
[
Reviews
-
7
]
Summary:
Tom Sloane's recent move to the small town of Barlow, Oregon has left him more lonely and as much of an outsider as he ever was in his hometown state of Alabama. But he is soon drawn to a lively, friendly, vivacious young candy shop owner. But at the same time, he is desperate to hide his terrible family secret from her, and everyone else in the quaint town.
THIS STORY IS A FINALIST FOR THE "CHEEKY CHICKS AND BOTHERSOME BEASTS" ORIGINAL FICTION CONTEST.
Categories:
ORIGINAL FICTION
Characters:
None
Challenges:
Series:
None
Chapters:
1
Completed:
Yes
Word count:
5383
[Report This] Published:
January 24, 2010
Updated:
January 24, 2010
---



© 2008, 2009 Twilighted Enterprises, LLC. All Rights Reserved.
Unauthorized duplication is a violation of applicable laws.
Privacy Policy | Terms of Service


All publicly recognizable characters, settings, etc. are the intellectual property of their respective owners. The original characters and plot are the property of Stephenie Meyer. No copyright infringement is intended.