Your donations help keep this site running,
thank you very much for the support!

Penname:
CourtneyCullen_29 [
Contact
]
Real name:
Courtney
Status:
Member
Member Since:
October 07, 2009
Website:
Beta-reader:


[
Report This
]
Good Girls Go Bad
by
CourtneyCullen_29
Rated:
NC-17
[
Reviews
-
42
]
Summary:
Edward Cullen is a bad boy. Bella Swan is daddy's little girl. What would happen if Fork's new good girl was to be the new object of Edward's desire? Will Edward corrupt her? Or will Bella be the one to finally turn this bad boy good?
A cocky, charming Edward and a seemingly innocent Bella. What will happen when opposite personalities collide?
Categories:
AU-Human
Characters:
Bella
,
Edward
Challenges:
Series:
None
Chapters:
3
Completed:
No
Word count:
12783
[Report This] Published:
December 02, 2009
Updated:
August 03, 2011
Office Romances and One Night Stands
by
CourtneyCullen_29
Rated:
NC-17
[
Reviews
-
163
]
Summary:
Bella is having trouble finding a job and when her life seems like it couldn't get any worse, she bumps into a stranger that she is instantly attracted to.
After a heated night together she finds out that her new boss is none other then her one night stand. Can her objection to office romances be broken with the seductive Edward Cullen?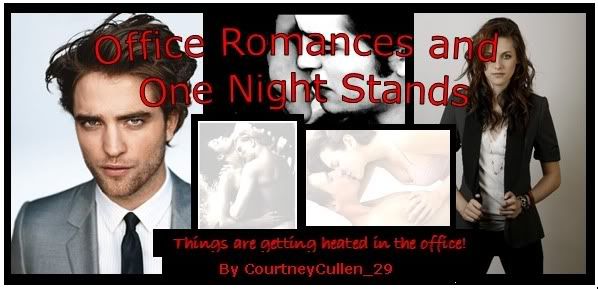 Categories:
AU-Human
Characters:
Alice
,
Bella
,
Edward
,
Emmett
,
Jasper
,
Rosalie
Challenges:
Series:
None
Chapters:
8
Completed:
No
Word count:
24590
[Report This] Published:
October 07, 2009
Updated:
April 18, 2010
---



© 2008, 2009 Twilighted Enterprises, LLC. All Rights Reserved.
Unauthorized duplication is a violation of applicable laws.
Privacy Policy | Terms of Service


All publicly recognizable characters, settings, etc. are the intellectual property of their respective owners. The original characters and plot are the property of Stephenie Meyer. No copyright infringement is intended.