Your donations help keep this site running,
thank you very much for the support!

Penname:
belladonna1472 [
Contact
]
Real name:
Belinda
Status:
Member
Member Since:
September 27, 2009
Website:
Beta-reader:
Discovered Twilight at Logan Airport in Boston. Needed a book to read for my flight to LA, so I walked into the book store and said 'I need a book'. The exuberant assistant simply insisted that I buy Twilight. He then proceeded to give me a general rundown of all things Bella, Edward and Forks.




The flight got delayed, so I started the book before we even took off (thanks, American Airlines). Read it on the flight - thank God I didn't have to watch Nights in Rodanthe. Edward Cullen > Richard Gere. Finished the book. Immediately bought New Moon at LAX.




That's how I got hooked :)




---




FFN profile: http://www.fanfiction.net/u/2115637/belladonna1472






[
Report This
]
The Cullen Campaign
by
belladonna1472
Rated:
NC-17
[
Reviews
-
84
]
Summary: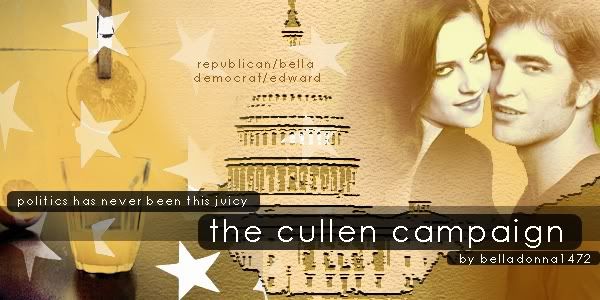 Edward Cullen and Isabella Swan both have parents who are major political leaders on Capitol Hill. Problem: their families are political enemies. What happens when Democrat!Edward and Republican!Bella bump into each other at Union Station in Washington D.C.?
OVER 3000 REVIEWS AT FFN!
Categories:
AU-Human
Characters:
Bella
,
Edward
Challenges:
Series:
None
Chapters:
7
Completed:
No
Word count:
26155
[Report This] Published:
March 29, 2010
Updated:
September 11, 2010
Empire State of Mind
by
belladonna1472
Rated:
NC-17
[
Reviews
-
151
]
Summary: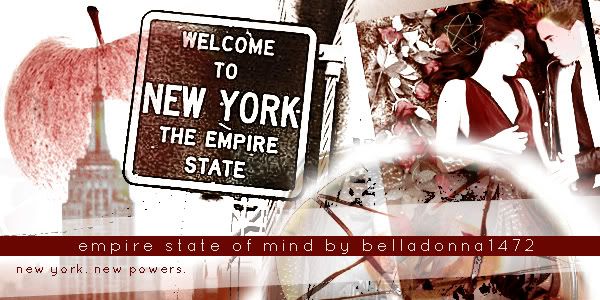 A psychic. A telepath. And a witch or two.
Edward and Alice Swan move to New York City to start their junior year at Hale School. When Alice's natural talent for precognition starts to manifest itself more strongly, Edward begins to develop telepathic abilities. What secrets do the two siblings discover about Edward's lab partner, Bella Cullen? What do they discover about their own family?
Rated for underage sexuality/drinking/etc in upcoming chapters.
Categories:
AU-Human
Characters:
Alice
,
Bella
,
Carlisle
,
Charlie
,
Edward
,
Esme
,
Jasper
,
Rosalie
Challenges:
Series:
None
Chapters:
12
Completed:
No
Word count:
53568
[Report This] Published:
October 25, 2009
Updated:
September 03, 2010
---



© 2008, 2009 Twilighted Enterprises, LLC. All Rights Reserved.
Unauthorized duplication is a violation of applicable laws.
Privacy Policy | Terms of Service


All publicly recognizable characters, settings, etc. are the intellectual property of their respective owners. The original characters and plot are the property of Stephenie Meyer. No copyright infringement is intended.