Your donations help keep this site running,
thank you very much for the support!

Penname:
SammiCat15 [
Contact
]
Real name:
Sammi
Status:
Member
Member Since:
September 25, 2009
Website:
Beta-reader:
No
Now divorcing, but with new love interest on the scene who is showing me how it's done and what real love is all about! :D




No kids to worry about, but the custodian of several cats who give me lots of cuddles & smiles. Am British and work fulltime in an office. Am a volunteer for a local cat rescue charity, fundraising whenever I can, but due to physical limitations, for the past 2 years I've concentrated on writing the newsletters.




Was Twilight/RPattz obsessed for about a year, after first seeing the film in May 09. Saw Twilight countless times, New Moon somewhat less and am looking forward to getting Eclipse on CD finally. However, my new lover is compensating wonderfully for not playing tonsil-hockey with Edward and my cravings for passionate writing into the early hours have diminished somewhat!




That said, the Cullen style of vampism would suit me very well (not to mention their wonderful family vibe) and allow me to overcome the physical difficulties which often restrict my mobility and also result in lots of daily pain. Being blessed with athletic abilities and a photographic memory looks like a whole load of fun - and I'd end up more like my father than I'd have ever imagined! If I could share some space (and spit!) with the gorgeous Edward (or Carlisle) then so much the better lol, but at least Fate has finally rewarded me with a soulmate of my own, so I have no complaints.




I do have some other work out there on the FanFiction site (www.fanfiction.net) and the TWCS (www.twcslibrary.com) about the Cullens under my other more usual pen-name of Cullenfest. I did try to get that name on here but had problems getting it up and running so went with my alternate internet name of Sammicat15.






[
Report This
]
A Walk with Vampires
by
SammiCat15
Rated:
NC-17
[
Reviews
-
71
]
Summary:
Beautiful, terminally ill, Yolanda is abandoned by her partner to die in the woods near Forks, but is stumbled upon by Rosalie and Emmett while out hunting. The kind-hearted Cullen family take this former journalist under their protection & care; see how she learns what they are and that there really are vampires in this world. Her story plays out in a way she could never have imagined.
What would you do if you discovered vampires truly existed? What if you were offered immortality? What if a chance encounter brought you the love you had always dreamed of?
All your Cullen family favorites are very much involved in this story. An Irish vampire comes calling to add a new twist to Cullen life.
This story is mostly told from Yolanda's POV as a newcomer to the world of vampires. Sometimes the story is told from the perspective of one of the others as they watch her adapt to her surroundings.
Story rated NC-17 for explicit lemony scenes, language and dark issues.
It has been migrated across from the FanFiction & TWCS sites, where you may know me as Cullenfest :D

"Is she even alive, Emmett? I can't hear a heartbeat from here." Rosalie stood there, hands on hips, glaring at me like it was my fault we'd stumbled upon a body in the woods. She clicked her tongue impatiently.
We'd been out for a couple of hours hunting and making out gloriously and lustily in the bracken. When the day had started, bright and early, I'd never imagined it would take this turn of events.
Vampires don't like surprises!
Categories:
Breaking Dawn
,
AU
Characters:
Alice
,
Bella
,
Carlisle
,
Charlie
,
Edward
,
Emmett
,
Esme
,
Jacob
,
Jasper
,
Leah
,
Nessie
,
Other Character
,
Renesmee
,
Rosalie
,
Seth
Challenges:
Series:
None
Chapters:
23
Completed:
No
Word count:
109875
[Report This] Published:
November 05, 2010
Updated:
March 10, 2013
LOVING EDWARD
by
SammiCat15
Rated:
NC-17
[
Reviews
-
302
]
Summary: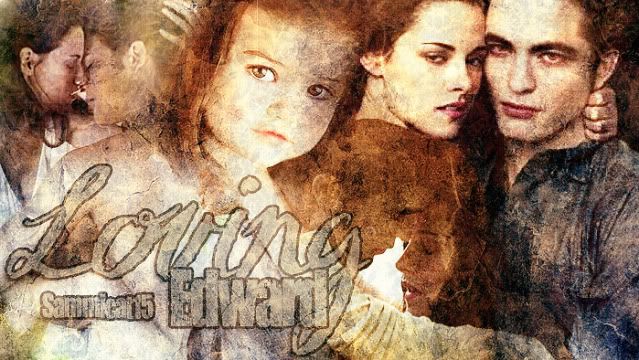 A Breaking Dawn story, this is a tale about Edward & Bella's voyage of sexual discovery and their introduction to parenthood.

The timeline runs from September, when they first go to their cottage in the woods, after Bella wakes up as a vampire, until the arrival of the Volturi at the end of December.
Bella & Edward have to balance their sexual desires with the challenges of new parenthood and Bella's adjustment to being a newborn vampire.
The story is told almost entirely from Bella's point of view.
Twilighted Jr Validation Beta: Content1
Banner: Huge thanks to FrozenSoldier for her wonderful banner-making talents. Thank you so much, hun!
Categories:
Breaking Dawn
Characters:
Alice
,
Bella
,
Billy
,
Carlisle
,
Charlie
,
Edward
,
Emmett
,
Esme
,
Jacob
,
Jasper
,
Leah
,
Nessie
,
Renee
,
Rosalie
,
Sam
,
Seth
Challenges:
Series:
None
Chapters:
34
Completed:
No
Word count:
95786
[Report This] Published:
February 26, 2010
Updated:
December 18, 2011
---



© 2008, 2009 Twilighted Enterprises, LLC. All Rights Reserved.
Unauthorized duplication is a violation of applicable laws.
Privacy Policy | Terms of Service


All publicly recognizable characters, settings, etc. are the intellectual property of their respective owners. The original characters and plot are the property of Stephenie Meyer. No copyright infringement is intended.