Your donations help keep this site running,
thank you very much for the support!

Penname:
CullenBanger9 [
Contact
]
Real name:
Jess
Status:
Member
Member Since:
September 22, 2009
Website:
https://twitter.com/Cullenbanger9
Beta-reader:
No
28 yr old wife, mother and twilight addict. I am utterly obsessed and totally okay with it. I am a resident of Smutville and ain't moving!




I am a naughty girl that likes to make Bella just like me....a lady on the streets and a freak in the sheets. All of my stories are Rated M for Edward Cullen. How can my stories not be rated M when EC's measurement is 10x2.




You will always find Jack Daniels in my cubbard. And he is a great wingman when you are writing.




Rock on kids.






[
Report This
]
Careless Whispers
by
CullenBanger9
,
ItalianPrincess
Rated:
NC-17
[
Reviews
-
39
]
Summary:
Bella Swan has been through a lot this past year since the death of her best friend, Jacob Black. After meeting Edward Cullen she decides now is the time for new beginnings, a little heat and a lot of fun! Will she allow him into her heart or just her bedroom? Rated M for Edward Cullen.
Thank you to SSVO75 for the above banner...you ROCK our SOCKS!!!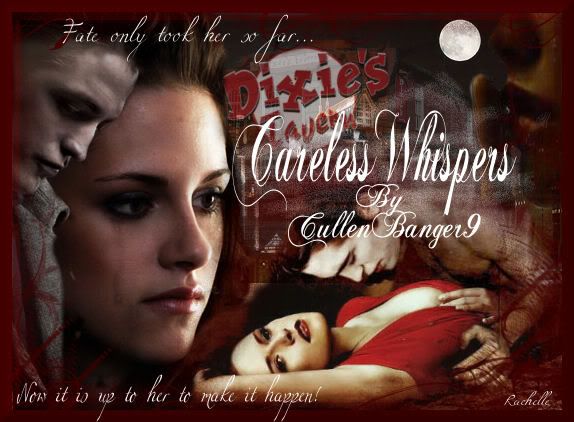 Thank you to Rachelle for the above banner...you are AMAZING!!!
And to Stacey- I love you for this!!! You are my Soul Sister!! LOVES!!
Categories:
AU-Human
Characters:
Alice
,
Bella
,
Edward
,
Emmett
,
Jacob
,
Jasper
,
Rosalie
Challenges:
Series:
None
Chapters:
8
Completed:
No
Word count:
14608
[Report This] Published:
November 24, 2009
Updated:
April 22, 2010
---



© 2008, 2009 Twilighted Enterprises, LLC. All Rights Reserved.
Unauthorized duplication is a violation of applicable laws.
Privacy Policy | Terms of Service


All publicly recognizable characters, settings, etc. are the intellectual property of their respective owners. The original characters and plot are the property of Stephenie Meyer. No copyright infringement is intended.