Your donations help keep this site running,
thank you very much for the support!

Penname:
RiaMaria [
Contact
]
Real name:
Natalie Lemans
Status:
Member
Member Since:
September 15, 2009
Website:
Beta-reader:
Hi,




There is more of this story on fanfiction.net, if you'e interested in finding it. As for finishing it....




My life was turned upside down in December 2010, when my 3 year old son's Leukaemia relapsed. 2011 was hellish, and we lost our beloved son on 7th September 2011 aged only 4 years and 2 months.




Inbetween times, my urge to write has been utterly absent. It still is, and frankly, life moves on.




I may one day return to finish Waking up, I have the entire final 6-7 chapters planned, but I don't know if or when.




Until then, I hope you enjoy what is here. I have no plans to pull it, as I see no reason to, so read, enjoy, until your world moves past Twilight too.




So, for now, Thank you, and good night.




Ria xx



[
Report This
]
Summary:
Set in the summer after Twilight, 2 weeks before the beginning of senior year, Bella wakes up one Saturday morning to find a sleeping, HUMAN Edward beside her.
"It was late August and we were going back to school in two weeks, so every single day had become invaluable to me. To be treasured, remembered forever, saved for a time I must leave to allow her to pick up her life as if I had never disturbed it.
But what about now? If I am truly human, that is no longer the case. I can give Bella everything she ever wants, everything she deserves. A real life, a husband... children? I have no need to leave her. I can stay and love her forever... If she'll have me."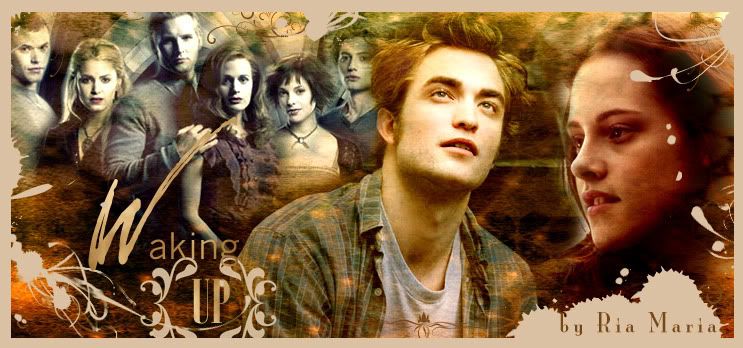 Thanks to angel_gidget for the awesome banner!
Categories:
AU
Characters:
Bella
,
Edward
Challenges:
Series:
None
Chapters:
28
Completed:
No
Word count:
214413
[Report This] Published:
February 14, 2010
Updated:
November 05, 2010
---



© 2008, 2009 Twilighted Enterprises, LLC. All Rights Reserved.
Unauthorized duplication is a violation of applicable laws.
Privacy Policy | Terms of Service


All publicly recognizable characters, settings, etc. are the intellectual property of their respective owners. The original characters and plot are the property of Stephenie Meyer. No copyright infringement is intended.