Your donations help keep this site running,
thank you very much for the support!

Penname:
hunterhunting [
Contact
]
Real name:
Helena
Status:
Member
Member Since:
August 23, 2009
Website:
Beta-reader:
Twilight obsessed obviously.



[
Report This
]
The Misapprehension of Bella Swan Regarding the Inferior Intellect of Hockey Whores
by
hunterhunting
Rated:
NC-17
[
Reviews
-
2570
]
Summary:
Edward Cullen is an anomaly as far as Bella Swan is concerned, defying all her preconceived notions about the whorishness of hockey players. Through incessant stalking and persistence, can Edward wears down Bella's resistence and teaches her to embrace her inner hockey hooker? A ridiculous love story.
Categories:
AU-Human
Characters:
Edward
Challenges:
Series:
Always Human
Chapters:
2
Completed:
Yes
Word count:
14519
[Report This] Published:
January 27, 2010
Updated:
August 19, 2010
Clipped Wings and Inked Armor
by
hunterhunting
Rated:
NC-17
[
Reviews
-
2427
]
Summary: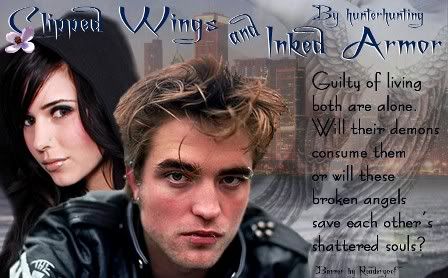 Haunted by her past, Bella is broken and alone. Starting over in a new city, can she let go of the guilt that consumes her when she meets a beautiful tattoo artist, or will his own personal demons destroy them first? AH/OOC
Categories:
AU-Human
Characters:
Edward
Challenges:
Series:
Always Human
Chapters:
2
Completed:
Yes
Word count:
20367
[Report This] Published:
August 23, 2009
Updated:
February 16, 2010
---



© 2008, 2009 Twilighted Enterprises, LLC. All Rights Reserved.
Unauthorized duplication is a violation of applicable laws.
Privacy Policy | Terms of Service


All publicly recognizable characters, settings, etc. are the intellectual property of their respective owners. The original characters and plot are the property of Stephenie Meyer. No copyright infringement is intended.