Your donations help keep this site running,
thank you very much for the support!

Penname:
Chocolatebrowneyes [
Contact
]
Real name:
Robin
Status:
Member
Member Since:
December 08, 2008
Website:
Beta-reader:
I'm 23 soon to be 24, I am a married SAHM with a beautiful 3 year old little girl. I am a fan of twilight fanfiction...I'm addicted. :D




Professional multitasker, who never sleeps (well I do just not as much as I should. :P )



[
Report This
]
One More Shot
by
Chocolatebrowneyes
Rated:
NC-17
[
Reviews
-
110
]
Summary:
Meet Alice Cullen. She is a student at Washington University; loves her family, shopping and performing. Oh and did I mention, it's her 21st birthday?

Meet Jasper Whitlock. He's a music store clerk that has big dreams of becoming something bigger then 'the usual' at Sue's.

She thinks he's a superficial hypocrite.

He thinks she's a stuck up little rich bitch.

Didn't these two ever learn not to play with matches?
Warning: OOC, Smut, the works...it's rated NC-17 for a reason.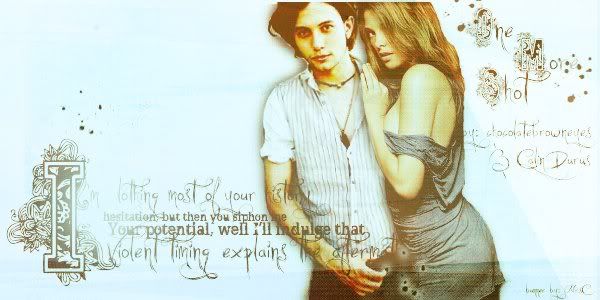 Categories:
AU-Human
Characters:
Alice
,
Jasper
Challenges:
Series:
Eternal Hope: The Alice and Jasper Archive
Chapters:
9
Completed:
No
Word count:
53362
[Report This] Published:
March 15, 2009
Updated:
May 25, 2009
Un/Broken
by
Chocolatebrowneyes
Rated:
NC-17
[
Reviews
-
179
]
Summary:
Bella Swan always thought she hated Edward Cullen, until she spends an afternoon with him that changes her mind. After that fateful outing their relationship blooms and she falls for him. When they spend a night together and he leaves without a word, can Bella ever mend her broken heart and prove to Edward that she doesn't need him?
Warning! slightly OOC, It's a B/E story-usual pairings but there is some B/OC too, and rated NC-17 for crude language, underage drinking/smoking and smut in later chapters.
Categories:
AU-Human
Characters:
Bella
Challenges:
Series:
None
Chapters:
7
Completed:
No
Word count:
28027
[Report This] Published:
January 15, 2009
Updated:
February 27, 2009
---



© 2008, 2009 Twilighted Enterprises, LLC. All Rights Reserved.
Unauthorized duplication is a violation of applicable laws.
Privacy Policy | Terms of Service


All publicly recognizable characters, settings, etc. are the intellectual property of their respective owners. The original characters and plot are the property of Stephenie Meyer. No copyright infringement is intended.