Your donations help keep this site running,
thank you very much for the support!

Penname:
justbitemeplease [
Contact
]
Real name:
Tammy
Status:
Member
Member Since:
December 06, 2008
Website:
Beta-reader:


[
Report This
]
Choice and Consequences
by
justbitemeplease
Rated:
NC-17
[
Reviews
-
397
]
Summary: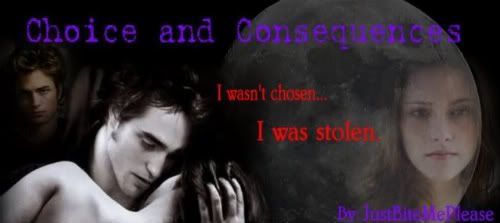 Seventeen year old Bella Swan is fascinated by the elusive and mysterious Edward Cullen. Will he be everything she dreamed of? Or more than she bargained for? And how will they find their way when one night changes everything?
Categories:
AU
Characters:
Bella
,
Edward
Challenges:
Series:
None
Chapters:
28
Completed:
Yes
Word count:
75114
[Report This] Published:
September 26, 2010
Updated:
November 27, 2011
---



© 2008, 2009 Twilighted Enterprises, LLC. All Rights Reserved.
Unauthorized duplication is a violation of applicable laws.
Privacy Policy | Terms of Service


All publicly recognizable characters, settings, etc. are the intellectual property of their respective owners. The original characters and plot are the property of Stephenie Meyer. No copyright infringement is intended.