Your donations help keep this site running,
thank you very much for the support!

Penname:
valelf [
Contact
]
Real name:
Valerie
Status:
Member
Member Since:
December 06, 2008
Website:
Beta-reader:
No
Hi! I'm Val.




I'm a single mom of a teenage daughter. I work full time at a soup kitchen. Twilight and Fan Fiction help me get through my real life headaches.




I've been told by a fanfic writer I admire that I write a "lickable Jacob Black". I'm not sure how everyone else feels about this, but I know there are some things I'd like to do to him...




I do love hot men, so I have wolf pack tendencies. That in no way means that I dislike the vamps, though! Jasper, Carlisle, Emmett...all totally swoonworthy! But, I truly am a wolf girl at heart.




I'm on Twitter: Eirelav1313



[
Report This
]
The Wedding
by
valelf
Rated:
PG-13
[
Reviews
-
734
]
Summary: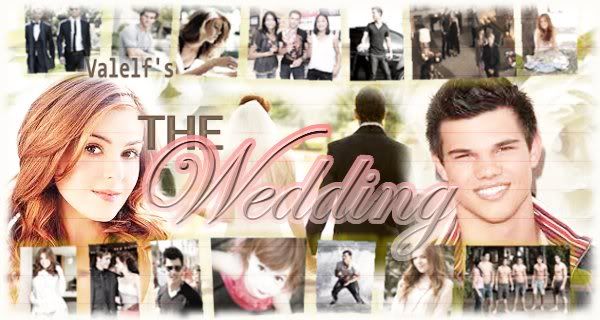 Thank you MegsD for the beautiful banner!
Jacob Black is getting married. As he's waiting anxiously for his bride to join him, he remembers some of the key moments of their relationship. Join Jacob as he reminisces about the good times and the bad: when Nessie was first born, how he watched over her as a little girl, what they went through when she matured and suddenly everything changed, falling in love, jealousy, misunderstandings, dealing with the reactions of family and friends, asking the big question, and so much more.
Categories:
Post-Breaking Dawn
Characters:
Jacob
Challenges:
Series:
None
Chapters:
33
Completed:
No
Word count:
74565
[Report This] Published:
January 31, 2009
Updated:
March 04, 2010
Dressing Room Adventures - One Shot
by
valelf
Rated:
R
[
Reviews
-
32
]
Summary:
This is an extended scene from chapter 14 of The Wedding. It could stand alone, but it would make more sense after reading The Wedding. So ... what exactly happened when Renesmee pulled Jacob into the dressing room with her? Read this to find out!
Categories:
Post-Breaking Dawn
Characters:
Jacob
Challenges:
Series:
None
Chapters:
1
Completed:
No
Word count:
1266
[Report This] Published:
March 18, 2009
Updated:
March 19, 2009
---



© 2008, 2009 Twilighted Enterprises, LLC. All Rights Reserved.
Unauthorized duplication is a violation of applicable laws.
Privacy Policy | Terms of Service


All publicly recognizable characters, settings, etc. are the intellectual property of their respective owners. The original characters and plot are the property of Stephenie Meyer. No copyright infringement is intended.