Your donations help keep this site running,
thank you very much for the support!

Penname:
xaipre [
Contact
]
Real name:
Sarah
Status:
Member
Member Since:
July 31, 2009
Website:
http://xaipre.livejournal.com/
Beta-reader:
I have written four stories for Twilight. I lurked the HP-ff world years ago, but I got pulled back into ff with Twilight, then one day started writing my one-shot Most Dangerous Predator.




I am a canon-shipper, but I like the occassional AU. What can I say, I like vampires.




Both of my banners were made by myself. But I am most emphatically not a banner maker.




You can go to my LiveJournal by clicking on my website link. Ihave links to my FF.net and MVF profile pages there, if you prefer reading fics at either of those places.




My newest fic, Announcement of Engagement, is only currently available on MyVampFiction. Please go to MyVampFiction.com to read it. My other stories are also availble on MVF.




Impromptus has been validated for an Indie in the category of "Best Use of a Parent"! The Indies list is a great place to find great fics you have probably never heard of before. Check it out at http://www.theindietwificawards.com/ValidatedStoriesByCategories.aspx






[
Report This
]
Hunt the Squirrel (One-Shot)
by
xaipre
Rated:
G
[
Reviews
-
18
]
Summary:
Emmett attempts to scry Edward's future. But will the arrival of a pair of unexpected guests make his method worthless?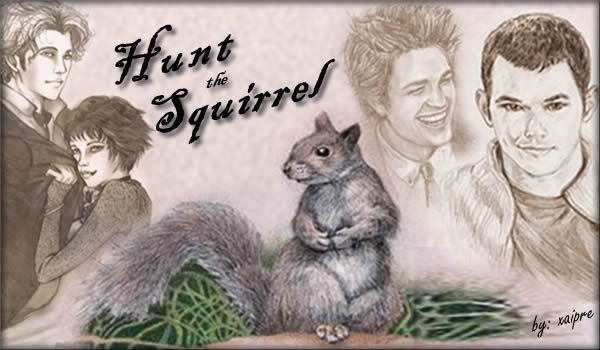 In this banner the sketch of Emmett is by bendwater88, Edward is by Lina Zol, Jasper and Alice is by kara-lija, and the squirrel is by Karen Gaskin. The banner was made by myself.
---
"An Ouija board?" Edward exclaimed. "What were you thinking? Does Carlisle know about this?"
"Hey, Carlisle has no rules other than we don't intentionally eat humans."
Edward gave Emmett an incredulous look. "Yes, but he may also draw the line at witchcraft."
"Edward, according to you we're already damned. What's the harm in trying out a little game?"
"Because there's no point in defying God any more than we already do," Edward said, the emphatic edge to his voice nearly desperate.
Emmett just shrugged. "We just spent the last three days killing animals instead of humans. I think God is pleased enough with us right now to let this slide."
---
Categories:
Pre-Twilight
Characters:
Alice
,
Carlisle
,
Edward
,
Emmett
,
Jasper
Challenges:
Series:
None
Chapters:
1
Completed:
Yes
Word count:
5638
[Report This] Published:
February 08, 2010
Updated:
February 08, 2010
Impromptus
by
xaipre
Rated:
PG-13
[
Reviews
-
105
]
Summary:
Set in the month of June after Twilight. For Edward's birthday Carlisle arranges for Edward to take Bella to the Symphony in Seattle, with him and Esme as chaperones, of course. As Edward and Bella explore their present relationship and Edward's past, Carlisle and Esme struggle to understand what impact Bella will have on Edward's future.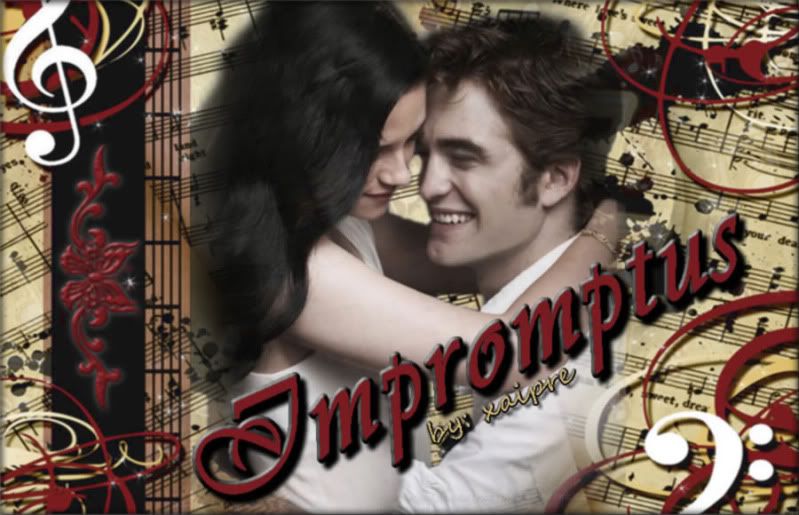 This is an Edward/Bella story, but it concentrates on the changing dynamic of the relationship between Carlisle and Edward.
Categories:
Twilight
Characters:
Bella
,
Carlisle
,
Edward
,
Esme
Challenges:
Series:
None
Chapters:
8
Completed:
Yes
Word count:
36533
[Report This] Published:
November 03, 2009
Updated:
December 13, 2009
Most Dangerous Predator (One-Shot)
by
xaipre
Rated:
PG
[
Reviews
-
27
]
Summary:
An unexpected event forces Bella to reflect upon the upcoming shift in her relationship with Mother Nature, and she teaches Carlisle an important lesson about responsibility.
"Do you think Mother Nature will try to launch another attack?" Jasper asked.
"Of course. I mean, wouldn't you? All the Bambis in the world are shaking in their hooves in fear of the day when Newborn Bella hunts them down. They're quickly running out of time to fight back." Bella nodded seriously. "Yes, I think the attacks will only escalate."
I looked over at Edward, who was looking at Bella with shock. "Bella," he exclaimed, "do you really think that the entire Animal Kingdom is plotting ways to kill you before you become a vampire?"
---
Quickie-Fickies Canon Rec
---
Categories:
Post-Eclipse
Characters:
Bella
,
Carlisle
,
Edward
Challenges:
Series:
None
Chapters:
1
Completed:
Yes
Word count:
8387
[Report This] Published:
October 19, 2009
Updated:
October 29, 2009
---



© 2008, 2009 Twilighted Enterprises, LLC. All Rights Reserved.
Unauthorized duplication is a violation of applicable laws.
Privacy Policy | Terms of Service


All publicly recognizable characters, settings, etc. are the intellectual property of their respective owners. The original characters and plot are the property of Stephenie Meyer. No copyright infringement is intended.