Your donations help keep this site running,
thank you very much for the support!

Penname:
crystalnicoleyo [
Contact
]
Real name:
Crystal Young
Status:
Member
Member Since:
July 22, 2009
Website:
Beta-reader:
You could say that I kind of...sort of...maybe...just a little bit...like fanfiction. You could say it...and I would say SHUTUP! I am completely, hopelessly, no-turning-back, infinitely in love with fanfiction. I am a hardcore Jacob lover. New Moon is my favorite book and when I read it the second time I think it imprinted on me. Hard to be absolutely certain, but my world has not been the same since falling in love Twilight.




Not only do I read fanfic...I'm now writing as well. Breakthrough (my version of Jake's happy ending) is my first rodeo and all I can say is I'm loving the ride...every bump, every buck; it's all worth it.




I'm a proud member of the wonderful Team SOB. I can't say enough about these wild ladies. Check out our blog for some funny interviews, fanfic recs, and of course pictures of our poster child Tay-Tay...okay and the rest of the Twi-guys. I suppose I'm a little partial to a certain russett skinned charmer.




http://teamsob.blogspot.com/




Also for story updates and random nonsense follow me on twitter




http://twitter.com/TeamJakeCNYO






[
Report This
]
No Return
by
crystalnicoleyo
Rated:
R
[
Reviews
-
46
]
Summary:
History has taught us that in 49 B.C., Caesar started a war by crossing a point of no return called the Rubicon River. I supposed at some time or another we have all had our own Rubicon to cross. It's the place where you are met with impossible decisions and irrevocable commitments. When the sum of your life is crashing around you, questioning everything you are, threatening everything you've ever wanted. The choice you make will change your course forever and there is absolutely no going back. This place, this Rubicon, is the point of no return.
Sequel to Breakthrough, Rated M
Categories:
AU
Characters:
Bella
,
Edward
,
Jacob
,
Other Character
Challenges:
Series:
None
Chapters:
11
Completed:
No
Word count:
40746
[Report This] Published:
January 26, 2010
Updated:
July 23, 2010
Time Stands Still
by
crystalnicoleyo
Rated:
PG-13
[
Reviews
-
48
]
Summary:
Isabella Swan moved to Chicago in the fall of 1917. Her life has been a constant mess of chaos since her father voluntarily joined the Army in 1916 and is now serving in World War I. After Charles Swan left his family, Bella's mother, Renee could no longer stand living in the rainy woods of Forks, WA. Renee accepted a job in her hometown of Chicago as a hair stylist, uprooting Bella and changing her life forever.
When the ungraceful and awkward Bella arrives in Chicago she meets Edward Masen. Edward is the son of a lawyer and is moderately wealthy. Bella is smitten with him immediately but knows he is out of her reach. Something about her attracts him in an unusual way and their love blooms overnight. Although their relationship is fickle at first, Bella realizes how much she truly loves him and dreams of marrying him. In May of 1918 Bella's life takes an unexpected turn when her mother decides it's time to move, again. This time to Boston. Bella does not want to leave Edward. She plans to move back to Chicago in September of that same year when she turns 18.
Bella and Edward communicate through letters until Bella's last letter never receives a response. She fears that Edward has enlisted in the army as World War I is raging. Although Edward never replied to her request, just as she planned, she moves back to Chicago, leaving her mother behind. She fears the worst and hopes that Edward has not left her or moved on. She has no money and no job and unless she can enroll back into school, she has no education. She's helpless and alone. When she finally arrives on Edward's street she is surprised to learn that it has been quarantined due to a Spanish Influenza outbreak. Not sure of where she should go next she searches the local hospitals. Finding some important information at St. Joseph's Hospital will change Bella's life forever.
Categories:
Pre-Twilight
Characters:
Bella
,
Carlisle
,
Edward
Challenges:
Series:
None
Chapters:
6
Completed:
No
Word count:
16545
[Report This] Published:
September 11, 2009
Updated:
May 25, 2010
Breakthrough
by
crystalnicoleyo
Rated:
NC-17
[
Reviews
-
341
]
Summary: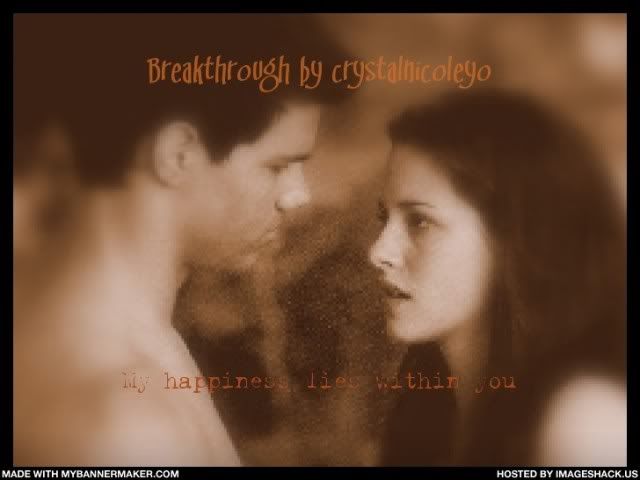 Bella was lost and hopeless when Edward left. Can she find happiness, now that he is not coming back? Will Jacob be able to win her heart? Will Bella be free of the consequences that come from loving a vampire? Will she overcome the obstacles of loving a werewolf?
My story picks up in New Moon. Alice doesn't see Bella jump. Edward is gone. This story is just a feel good love story, with the occasional twist and turn.
Categories:
New Moon
Characters:
Alice
,
Bella
,
Billy
,
Charlie
,
Edward
,
Embry
,
Emily
,
Emmett
,
Irina
,
Jacob
,
Jared
,
Jessica
,
Leah
,
Mike
,
Quil
,
Renee
,
Rosalie
,
Sam
,
Seth
,
Victoria
Challenges:
Series:
None
Chapters:
18
Completed:
No
Word count:
85812
[Report This] Published:
July 22, 2009
Updated:
January 26, 2010
Finding the Way
by
crystalnicoleyo
Rated:
NC-17
[
Reviews
-
20
]
Summary:
Bella moves to Forks in hopes of a new life, trying to escape her past and forget her former life. A relationship with Jacob Black might be enough to help Bella heal, but what will happen when he leaves in search of his own life? AH
Categories:
AU-Human
Characters:
Alice
,
Bella
,
Charlie
,
Edward
,
Jacob
,
Jasper
Challenges:
Series:
None
Chapters:
6
Completed:
No
Word count:
25073
[Report This] Published:
November 06, 2009
Updated:
January 09, 2010
---



© 2008, 2009 Twilighted Enterprises, LLC. All Rights Reserved.
Unauthorized duplication is a violation of applicable laws.
Privacy Policy | Terms of Service


All publicly recognizable characters, settings, etc. are the intellectual property of their respective owners. The original characters and plot are the property of Stephenie Meyer. No copyright infringement is intended.