Your donations help keep this site running,
thank you very much for the support!

Penname:
kerrybell [
Contact
]
Real name:
Rose
Status:
Member
Member Since:
November 29, 2008
Website:
Beta-reader:
So here I am, reader/daydreamer extraordinaire! The town I call my temporary home has a little more people than Forks, less rain than Forks, and A LOT less interesting people. In fact, it probably has a population of three people able to be deemed slightly fascinating. I am the quintessential introvert. My time is spent writing, reading, and observing.




I would love to travel, to start anew in an unfamiliar place where I could feel right for once in my life. I love rain but not that of the drenched town of Forks. It's too cold there. I'm more partial to shorts and ratty tees than mittens and snow boots. Anything else worth saying would probably make me prattle too much, so I am going to unmute Scrubs and finish chapter six of Letters to Swan instead. That way I'll have time to comment on your bitchin' writing skills!



[
Report This
]
Letters to a Swan
by
kerrybell
Rated:
NC-17
[
Reviews
-
450
]
Summary:
On one rainy afternoon in April Bella Swan, Forks school's resident loner found an envelope the color of the Phoenix sky wedged in her locker. Who is behind the pen? Bella doesn't know. Is it possible to find yourself again through picking up the dry-cleaning of a stranger? How about through a job application or a train ticket? Why is someone sending her on these adventures? These adventures that lead her to a mysterious boy and his friends. These adventues that are pushing her to confront her past. Will Bella, with the help of the letters' sender, conquer what lies behind her, or will the fear of what lies ahead defeat her?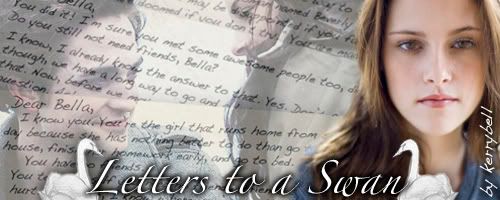 Beautiful Banner number one is by the very talented milla (it's so blue and swirly)
Extraordinary Banner number two is by the marvelous m81170 (holy toast, she actually has my words on there) I can't picka favorite. There is no favorite! Thank you!
Categories:
AU-Human
Characters:
Bella
Challenges:
Series:
None
Chapters:
11
Completed:
No
Word count:
68779
[Report This] Published:
February 14, 2009
Updated:
August 05, 2009
---



© 2008, 2009 Twilighted Enterprises, LLC. All Rights Reserved.
Unauthorized duplication is a violation of applicable laws.
Privacy Policy | Terms of Service


All publicly recognizable characters, settings, etc. are the intellectual property of their respective owners. The original characters and plot are the property of Stephenie Meyer. No copyright infringement is intended.