Your donations help keep this site running,
thank you very much for the support!

Penname:
flute_genevive [
Contact
]
Real name:
Julianne
Status:
Member
Member Since:
November 24, 2008
Website:
Beta-reader:
Hey! I'm flute_genevive, and I'm a hardcore lurker who finally decided to grow the hell up and post her own stuff. Yay me!




I'm in catholic high school, but I spent my first 8 years of schooling in public schools around the midwest-ish area.




I love to write, anything really, but I was on this pre-twilight kick for awhile that produced some cool stuff.




Anyway, to get to the end of my giant ramble, I love twilighted, and I'm eager to hear responses to my fics.



[
Report This
]
Trances and Beginnings
by
flute_genevive
Rated:
PG
[
Reviews
-
26
]
Summary:
One-Shot. Won 1st Place for Fanfic in the Lion_Lamb multi fanworks contest!
How does Esme see her son's love life before he meets Bella, while he discerns his feelings and plans, and after Bella has been welcomed into the Cullen family?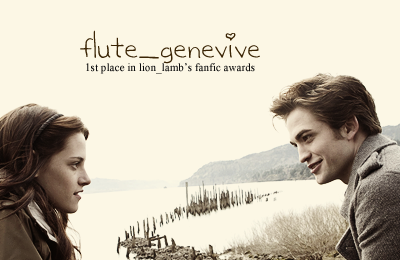 Categories:
Twilight
,
New Moon
,
Eclipse
,
Breaking Dawn
Characters:
Bella
,
Edward
,
Esme
Challenges:
Series:
None
Chapters:
1
Completed:
Yes
Word count:
2275
[Report This] Published:
November 25, 2009
Updated:
November 29, 2009
In the Land of One Thousand Years
by
flute_genevive
Rated:
NC-17
[
Reviews
-
104
]
Summary:
Pre-Twilight. Emmett/Rosalie. A story that begins with Emmett's awakening as a newborn, and follows the secrets and hurdles of his new relationship with Rosalie, the mysterious blonde girl who saved his life.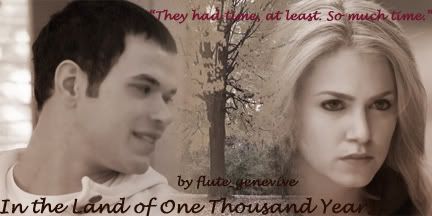 Categories:
Pre-Twilight
Characters:
Carlisle
,
Edward
,
Emmett
,
Esme
,
Rosalie
Challenges:
Series:
None
Chapters:
9
Completed:
Yes
Word count:
17868
[Report This] Published:
November 25, 2008
Updated:
December 23, 2008
---



© 2008, 2009 Twilighted Enterprises, LLC. All Rights Reserved.
Unauthorized duplication is a violation of applicable laws.
Privacy Policy | Terms of Service


All publicly recognizable characters, settings, etc. are the intellectual property of their respective owners. The original characters and plot are the property of Stephenie Meyer. No copyright infringement is intended.