Your donations help keep this site running,
thank you very much for the support!

Penname:
Truth in the Moon [
Contact
]
Real name:
Elizabeth
Status:
Member
Member Since:
June 22, 2009
Website:
Beta-reader:


[
Report This
]
FEAR
by
Truth in the Moon
Rated:
NC-17
[
Reviews
-
436
]
Summary:
When Edward, the son of the rich, multi-billionaire Carlisle Cullen is kidnapped by terrorists, a secret organization puts Agent Bella Swan on the case. It's her job to go rescue him and take down the terrorist group without becoming to involved. Will this mission be too much for her to handle?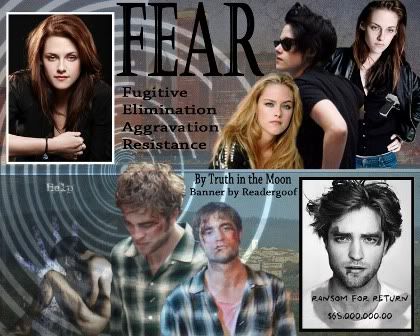 Violence, language, lemons eventually
Thank you to readergoof for my completely amazing banner!!!!!
Categories:
AU-Human
Characters:
Bella
,
Edward
Challenges:
Series:
None
Chapters:
20
Completed:
No
Word count:
47059
[Report This] Published:
July 06, 2009
Updated:
July 28, 2010
---



© 2008, 2009 Twilighted Enterprises, LLC. All Rights Reserved.
Unauthorized duplication is a violation of applicable laws.
Privacy Policy | Terms of Service


All publicly recognizable characters, settings, etc. are the intellectual property of their respective owners. The original characters and plot are the property of Stephenie Meyer. No copyright infringement is intended.