Your donations help keep this site running,
thank you very much for the support!

Penname:
Twilightdreamlover [
Contact
]
Real name:
Maria
Status:
Member
Member Since:
June 10, 2009
Website:
http://www.twifans.com/profile/Twilightdreamlover
Beta-reader:
No



This is one of my blingees, created at blingee.com. There are several more, most of them Twilight-related, although I do have two that honor Michael Jackson.




For me, reading is a consuming passion! My favorite genres are romance, fantasy, and science fiction. I also enjoy non-fiction, my favorite subjects being philosophy, theology, and psychology.




Right now,, I'm completely obsessed with The Twilight Saga! I can't get enough of these characters, especially Edward Cullen!!!!




I love writing as much as reading! About four years ago, I started writing fan fiction, and submitting it to fanfiction.net. At that time, I was obsessed with Erik, the Phantom of the Opera. I have six POTO stories at ff.net, where I use the pen name "Angelmuse". Two of my Twilight storie are also posted there.




I would like to publish my original fiction someday, as well as my poetry.



[
Report This
]
The Rainbow at the End of the Bridge
by
Twilightdreamlover
Rated:
R
[
Reviews
-
72
]
Summary:
Edward has left Carlisle's family, having rebelled against the ideal of 'vampire vegetarianism'. But he starts to feel guilty. Then, one night, he encounters a young girl named Bella, who seems to have lost the will to live....
Please note: this is an AU story; not everything will be canon. Edward and Bella are sometimes OOC.
THANK YOU, ANNAMORPHOS, FOR ANOTHER BEAUTIFUL BANNER!!
Categories:
AU
Characters:
Bella
,
Edward
,
Other Character
Challenges:
Series:
None
Chapters:
6
Completed:
No
Word count:
16578
[Report This] Published:
July 31, 2009
Updated:
October 13, 2009
Shadows and Meadows
by
Twilightdreamlover
Rated:
PG-13
[
Reviews
-
80
]
Summary: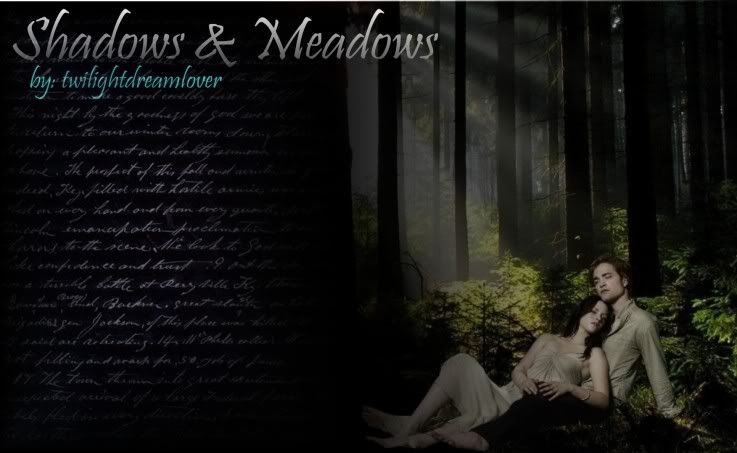 Within a moonlit meadow, the ultimate danger lurks. Shadows in time, Edward and Bella face an unpleasant truth that may change their destinies forever.
An entire world shifts as lives change, over and over, in the unpredictable currents of time.
It all begins in Forks, under a typically cloudy sky, when Bella gets tired of waiting yet another day for Edward to show up for school, and decides to take matters into her own hands.
This is an alternate universe story. Canon pairings are adhered to.
THANKS AND KUDOS TO THE SUPER TALENTED ANNAMORPHOS FOR THE BEAUTIFUL BANNER!! YOU ROOOCCCKKK!!!! =D
Categories:
Twilight
,
Breaking Dawn
,
AU
Characters:
Alice
,
Bella
,
Carlisle
,
Charlie
,
Edward
,
Emmett
,
Esme
,
Jasper
,
Other Character
,
Renesmee
,
Rosalie
Challenges:
Series:
None
Chapters:
8
Completed:
No
Word count:
11571
[Report This] Published:
June 10, 2009
Updated:
July 26, 2009
---



© 2008, 2009 Twilighted Enterprises, LLC. All Rights Reserved.
Unauthorized duplication is a violation of applicable laws.
Privacy Policy | Terms of Service


All publicly recognizable characters, settings, etc. are the intellectual property of their respective owners. The original characters and plot are the property of Stephenie Meyer. No copyright infringement is intended.