Your donations help keep this site running,
thank you very much for the support!

Penname:
Rushed [
Contact
]
Real name:
Danielle
Status:
Member
Member Since:
June 08, 2009
Website:
Beta-reader:


[
Report This
]
Last Night In Forks
by
Rushed
Rated:
NC-17
[
Reviews
-
442
]
Summary: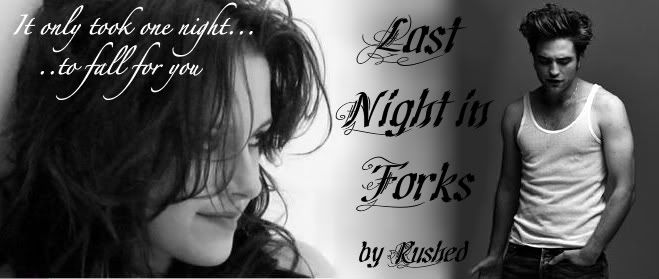 On the last night of her annual trip to Forks to see her father, Bella finds herself a gorgeous distraction from ex boyfriend James. Thinking she'll never see the gorgeous Edward again she goes further than she ever thought she would with a complete stranger. Will this be the last time they ever see each other or does fate have other ideas?
Thanks to the fabulous Mkystich for my lovely banner!!
Categories:
AU-Human
Characters:
Alice
,
Bella
,
Edward
Challenges:
Series:
None
Chapters:
21
Completed:
No
Word count:
94747
[Report This] Published:
July 27, 2009
Updated:
May 31, 2012
---



© 2008, 2009 Twilighted Enterprises, LLC. All Rights Reserved.
Unauthorized duplication is a violation of applicable laws.
Privacy Policy | Terms of Service


All publicly recognizable characters, settings, etc. are the intellectual property of their respective owners. The original characters and plot are the property of Stephenie Meyer. No copyright infringement is intended.