Your donations help keep this site running,
thank you very much for the support!

Penname:
BEEternity [
Contact
]
Real name:
Jules
Status:
Member
Member Since:
June 02, 2009
Website:
Beta-reader:


[
Report This
]
Living Through It
by
BEEternity
Rated:
PG-13
[
Reviews
-
684
]
Summary:
A father. A daughter. An incurable disease.
When life hands you an impossible path, what can you do other than follow and live through it?
A story about the cruelty of terminal illness, determination and will, and ultimately triumph and inspiration.
Told from Bella's POV.
Thanks to SusanAshlea for my beyootiful new banner! I LOVEEEEEE.
Disclaimer: All publicly recognizable characters, settings, etc. are the property of their respective owners. The original characters and plot are the property of the author. No copyright infringement is intended.
Categories:
AU-Human
Characters:
Alice
,
Bella
,
Carlisle
,
Charlie
,
Edward
,
Emmett
Challenges:
Series:
None
Chapters:
35
Completed:
No
Word count:
132111
[Report This] Published:
February 01, 2010
Updated:
December 07, 2010
Changing Tides, New World
by
BEEternity
Rated:
NC-17
[
Reviews
-
606
]
Summary: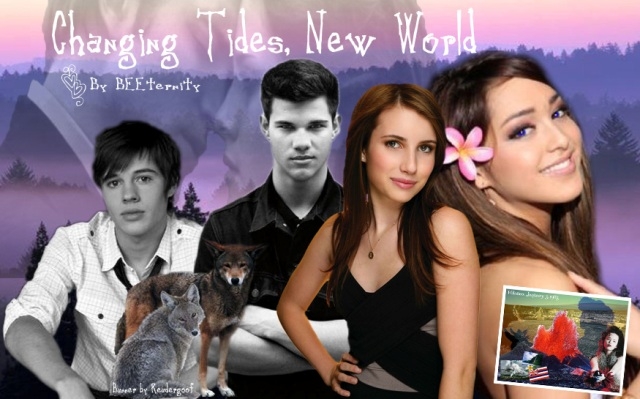 Thanks to Readergoof for the incredible banner and especially for updating Nessie for me!
Bella is facing her first move after becoming a Vampire. She is conflicted about leaving Charlie behind, possibly forever.
What will it be like? How will it feel to leave behind the place she found love, eternal life and unending happiness?
How will everyone in the family adjust to their first move since their family grew?
On top of the move, Renesmee is a mere year or so away from reaching full maturity, another new experience for the entire family.
Starts off from Bella's POV. Edward, Renesmee & Jake POV as well, others possible in the end.
Changing Tides, New World was nominated for two Mystic Awards
The Lion Award - Best overall storyline involving vampires.
and
The Golden Apple Award - for my portrayal of Bella
www.themysticawards.webs.com
Categories:
Post-Breaking Dawn
Characters:
Bella
,
Carlisle
,
Charlie
,
Edward
,
Emmett
,
Esme
,
Jacob
,
Leah
,
Nessie
,
Other Character
,
Renesmee
,
Rosalie
,
Seth
Challenges:
Series:
Imprint Me: The Jacob and Nessie Archives
Chapters:
44
Completed:
Yes
Word count:
111217
[Report This] Published:
June 05, 2009
Updated:
November 02, 2009
---



© 2008, 2009 Twilighted Enterprises, LLC. All Rights Reserved.
Unauthorized duplication is a violation of applicable laws.
Privacy Policy | Terms of Service


All publicly recognizable characters, settings, etc. are the intellectual property of their respective owners. The original characters and plot are the property of Stephenie Meyer. No copyright infringement is intended.