Your donations help keep this site running,
thank you very much for the support!

Penname:
AwesomeSauce76 [
Contact
]
Real name:
Amanda/foof76
Status:
Member
Member Since:
May 11, 2009
Website:
Beta-reader:
34 year-old happily married mother of two spoiled rotten dogs.




To put it simply, I love the smut. I love the reading of smut, and most definitely the writing of smut. Plot is good, too. ;-) Now mix all of those things up with Twilight characters, and I am in HEAVEN!!




Follow me on twitter! http://twitter.com/AwesomeSauce416



[
Report This
]
Blood and Lust
by
AwesomeSauce76
Rated:
NC-17
[
Reviews
-
2280
]
Summary:
EPOV. Edward is having trouble balancing his urges for Bella's blood and Bella's body before the wedding. What started out as a simple "Practice Fic" has become a retelling of BD from EPOV that lets us see just how much he struggles for control at every turn.
Warning: Edward's got issues. Some dark images and angst, but nothing too bad and quickly giving way to steamy goodness.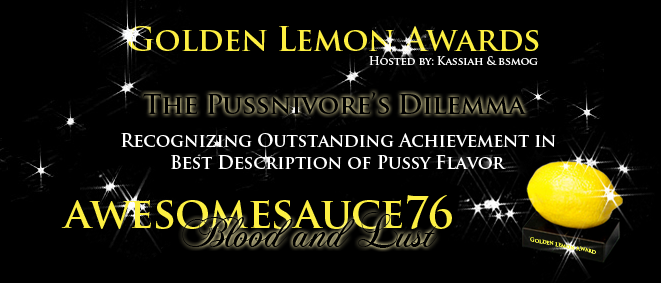 Categories:
Post-Eclipse
,
Breaking Dawn
Characters:
Bella
,
Edward
Challenges:
Series:
None
Chapters:
21
Completed:
Yes
Word count:
132400
[Report This] Published:
May 12, 2009
Updated:
March 31, 2010
Forever
by
AwesomeSauce76
Rated:
NC-17
[
Reviews
-
114
]
Summary: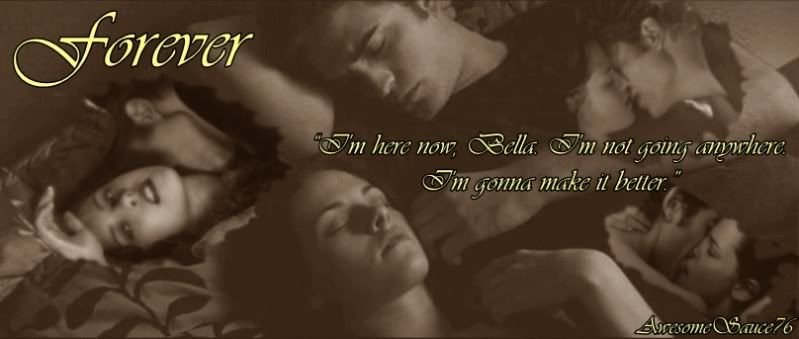 Edward and Bella are recently married, and it's time for him to live up to his promise and change her. However, what would happen if his venom had a slightly different effect on her? How will Edward handle Bella in the throes of the most powerful aphrodisiac in the world? (EPOV, Written for The Fandom Gives Back Auction)
Categories:
Post-Eclipse
Characters:
Bella
,
Edward
Challenges:
Series:
None
Chapters:
1
Completed:
Yes
Word count:
12674
[Report This] Published:
December 23, 2009
Updated:
December 23, 2009
---



© 2008, 2009 Twilighted Enterprises, LLC. All Rights Reserved.
Unauthorized duplication is a violation of applicable laws.
Privacy Policy | Terms of Service


All publicly recognizable characters, settings, etc. are the intellectual property of their respective owners. The original characters and plot are the property of Stephenie Meyer. No copyright infringement is intended.