Your donations help keep this site running,
thank you very much for the support!

Penname:
Alyssa Cullen [
Contact
]
Real name:
Alyssa Marie
Status:
Member
Member Since:
October 24, 2008
Website:
http://www.fanfiction.net/u/1684875/Alyssa_Cullen_from_Twilighted
Beta-reader:
No
Twilight is my life, my soul. Without it, I'm incomplete.




I was basically your average girl, lost in this big wide world with nothing really to hold onto. I jumped around alot with interests; I never thought I'd get thrown my life preserver with Twilight.




And I'd never have dreamed in a million years that I'd be able to combine my love of writing and twilight in one place.




Now I'm a 20 (whoo hooo!) year old college student, with absolutely no background in creative writing or english. These are actually my first serious pieces of writing, and from the reviews I get, I don't think they're half bad =)




A special thanks to vjgm who got me started, gave me a shove in the right direction, and dealt with my 900 emails when I had no idea how to revise.




Thanks to Stephenie Meyer, for bringing passion back into my life. If she ever read any of these words or any piece of mine, then I'd hope she'd take from it that I am eternally grateful to her, I admire her and that I aspire to follow in her footsteps.




And finally, to the support I get continuously from my readers. There are no words; you keep me strong, you keep me going and you keep me afloat. Simply put, thank you.




I occasionally beta-- not for validation; no, I can't get your story on the page. That's up to the official beta's and the administartors, but if you want me to read over a story for you or need some help with editing or revision, I'm what we call a 'freelance' beta.




Hit contact or email me at alyssacullen89@yahoo.com if you need a hand, or even if you want to chit chat about Twilight or any piece of mine. I'm pretty good with emails so I'll definitely answer!




NOTE!! Over on Fan-fiction, there was no penname "Alyssa Cullen", therefore my penname is "ALYSSA CULLEN FROM TWILIGHTED"




Check out my stuff over there! The link is provided above as my website




Be Safe...




-Alyssa Cullen



[
Report This
]
Love Story
by
Alyssa Cullen
Rated:
NC-17
[
Reviews
-
87
]
Summary: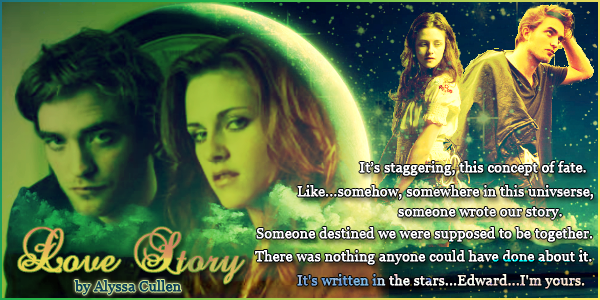 The absolute last thing in Bella Swan's mind is uprooting her life, mid-semester of her senior year of High School, let alone move to Forks, the rainy, dreary town her homely father resides in. Yet the move brings her a sort of peace and optimism; things were definitely changing, and falling into a simple, easy routine. Enter the mysterious stranger Edward Cullen, who sweeps her off of her feet, exciting in her feelings of passion, hatred, and more importantly, passionate hate.
Will life ever be simple again?
AU / AH OOC
Based extremely loosely on Taylor Swift's "Love Story".
RATED NC-17 FOR LANGUAGE, ADULT THEMES AND CONTENT, AND LATER LEMONS!!!
amazingly, beautiful & fantastical banner by Ms. Ambrosia
Categories:
AU-Human
Characters:
Alice
,
Angela
,
Bella
,
Ben
,
Carlisle
,
Charlie
,
Edward
,
Emmett
,
Esme
,
Jacob
,
Jasper
,
Jessica
,
Mike
,
Renee
,
Rosalie
Challenges:
Series:
None
Chapters:
9
Completed:
No
Word count:
54448
[Report This] Published:
February 03, 2010
Updated:
January 09, 2011
His...At Long Last
by
Alyssa Cullen
Rated:
NC-17
[
Reviews
-
1343
]
Summary:
"In a moment's time, I'd be his, entirely. The one thing I'd wanted more than anything itself. The pain, the pleasure- it was worth it knowing I'd be able to claim to be his…at long last.
"The silence in the room was deafening. The intimacy of this moment made the world hold its breath in anticipation. Time ceased to exist; the only fathomable concepts were Edward and me."
For all of us who read Breaking Dawn, closed the back cover and said; "Yeah...not what I expected..."
This is my version, my ending of the Twilight Saga. In short, it's purpose is to show how Edward and Bella meet the trials and tribulations of being newlyweds, Bella being a newborn as well as other things life has to offer. It's meant to highlight their love, devotion, the strengthening of their bond as well as how they grow together emotionally and physically.
Rated NC-17 for Mature themes, language and adult and sexual content.
WARNING: quite a few lemons here ;]
ON HIATUS!! LOOK FOR MY NEWEST WORK AND THE FOCUS OF MY ATTENTION, "Love Story" !!
Categories:
Breaking Dawn
Characters:
Alice
,
Bella
,
Carlisle
,
Charlie
,
Edward
,
Emmett
,
Esme
,
Jasper
,
Phil
,
Renee
,
Rosalie
Challenges:
Series:
The Beginning
Chapters:
20
Completed:
No
Word count:
132794
[Report This] Published:
October 30, 2008
Updated:
November 15, 2009
Risky Business [One Shot]
by
Alyssa Cullen
Rated:
NC-17
[
Reviews
-
25
]
Summary:
Written for the Quote Challenge Contest.
After a long day at work, Bella comes home to relax, but will she be alone for long? One-shot, rated NC-17 for the lemon.
Categories:
AU-Human
Characters:
Bella
,
Edward
Challenges:
Series:
None
Chapters:
1
Completed:
Yes
Word count:
4952
[Report This] Published:
June 16, 2009
Updated:
June 24, 2009
---



© 2008, 2009 Twilighted Enterprises, LLC. All Rights Reserved.
Unauthorized duplication is a violation of applicable laws.
Privacy Policy | Terms of Service


All publicly recognizable characters, settings, etc. are the intellectual property of their respective owners. The original characters and plot are the property of Stephenie Meyer. No copyright infringement is intended.