Your donations help keep this site running,
thank you very much for the support!

Penname:
LivesInDreams [
Contact
]
Real name:
Leigh-Anne
Status:
Member
Member Since:
May 08, 2009
Website:
Beta-reader:
Hi!



[
Report This
]
Midnight Stand
by
LivesInDreams
Rated:
R
[
Reviews
-
25
]
Summary:
During New Moon, Edward leaves. But Bella finds herself able to live on without him through the love of all her friends. So, because of this, she finds herself at Mike's 18th birthday where she has a one night stand with the least suspected candidate and becomes pregnant.
One year after her son's birthday, Bella moves to New York City where she finds herself only getting up in the morning because of her son. When she reaches rock bottom, she finds that it is only the first level.
Life is turned upside down when Bella finds out that Victoria has found out where she is and is looking for her. Plus what happens when an old friend visits her?
Categories:
AU
Characters:
Bella
,
Edward
,
Jacob
,
Other Character
Challenges:
Series:
None
Chapters:
2
Completed:
No
Word count:
2858
[Report This] Published:
June 18, 2009
Updated:
October 14, 2009
Nine Billion Dollar Heist
by
TRDancer
Rated:
NC-17
[
Reviews
-
39
]
Summary:
"Six friends, one summer, and a heist to rock the century. It all started as a challenge, and then it morphed into a game among friends. A game that would quickly change."
Things were never 'just a game' to them. It was a way of life. It was about friendship with more than just the bare hint of mischief scattered in the mix. It was about the money and the loyalty, and it was about the consequences—both good and bad—that resulted from it.
It was about the 'Six Crew', the group of friends that had long rocked the foundations of wealthy Forks, Washington and its students. It was about not leaving all that they had had with each other behind. It would soon become something even greater than that.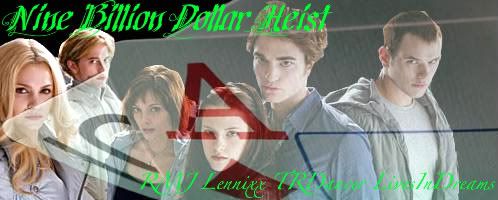 Categories:
AU-Human
Characters:
Alice
,
Bella
,
Edward
,
Emmett
,
Jasper
,
Rosalie
Challenges:
Series:
None
Chapters:
11
Completed:
No
Word count:
31315
[Report This] Published:
May 08, 2009
Updated:
August 27, 2009
---



© 2008, 2009 Twilighted Enterprises, LLC. All Rights Reserved.
Unauthorized duplication is a violation of applicable laws.
Privacy Policy | Terms of Service


All publicly recognizable characters, settings, etc. are the intellectual property of their respective owners. The original characters and plot are the property of Stephenie Meyer. No copyright infringement is intended.