Your donations help keep this site running,
thank you very much for the support!

Penname:
valeri29 [
Contact
]
Real name:
Valeri
Status:
Member
Member Since:
October 19, 2008
Website:
Beta-reader:
I'm 37, married, and a mother of two.



[
Report This
]
Destination Wedding
by
valeri29
Rated:
NC-17
[
Reviews
-
37
]
Summary: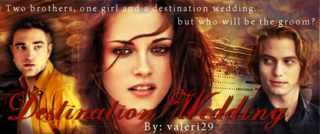 Thank you to Vican for the beautiful banner.
Bella Swan has always loved Jasper and Edward Cullen. One is her best friend. The other she's been crushing on since puberty. When Bella becomes engaged, she plans a romantic wedding aboard a cruise ship. There will be a wedding at the end of the cruise…but who will be the groom?
Categories:
AU-Human
Characters:
Bella
,
Edward
,
Jasper
Challenges:
Series:
None
Chapters:
10
Completed:
No
Word count:
41547
[Report This] Published:
January 09, 2011
Updated:
May 31, 2012
On a Lonesome Road
by
valeri29
Rated:
NC-17
[
Reviews
-
506
]
Summary:
Thanks to RavynNightstorm for the fantastic banner.
During her freshman year, Bella Swan's mother forces her to join the Forks High band. Instead of the torture Bella was expecting, she actually meets the five people who will become the best friends of her life. But amid the flirting, jokes, and pranks, something unexpected happens to Bella. She finds herself unable to escape one devastating mistake and fears her life is over forever...at the age of fifteen. AU/AH.
One is not free to make mistakes in a small town like Forks. The tiniest misstep, the smallest indiscretion is fair game for the gossip mill for years. And the mistake I had made was certainly not a small one. I would never be able to escape the shadow of what I had done; and worst of all, absolutely everyone knew about it.
There will be no teen pregnancy or illegal drug use in this story. Anything else that could realistically happen in a high school setting is a possibility.
Finalist for Best Secondary Characterization and Best Action or Drama Story:
Categories:
AU-Human
Characters:
Alice
,
Bella
,
Edward
,
Emmett
,
Jasper
,
Rosalie
Challenges:
Series:
None
Chapters:
32
Completed:
Yes
Word count:
177490
[Report This] Published:
November 09, 2009
Updated:
August 20, 2010
---



© 2008, 2009 Twilighted Enterprises, LLC. All Rights Reserved.
Unauthorized duplication is a violation of applicable laws.
Privacy Policy | Terms of Service


All publicly recognizable characters, settings, etc. are the intellectual property of their respective owners. The original characters and plot are the property of Stephenie Meyer. No copyright infringement is intended.