Your donations help keep this site running,
thank you very much for the support!

Penname:
LunaVengeance [
Contact
]
Real name:
Luna V.
Status:
Member
Member Since:
April 30, 2009
Website:
Beta-reader:
No
I'm a 21 year old college student. I love to write, read, and listen to music. I also love to role play. I spend a lot of time at home with my family. I looove horror movies, as well as romantic comedies. I love making new friends and chatting with new people. I have an unreasonable severe fear of spiders, and Halloween is my favorite holiday.




Yeah; I'm a random person. :)



[
Report This
]
Don't Go
by
LunaVengeance
Rated:
NC-17
[
Reviews
-
38
]
Summary: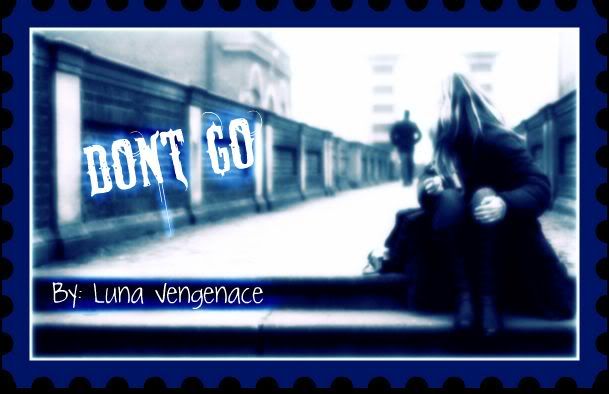 They had the perfect relationship, or so she thought. Now, after six years, Edward has walked out of her life. Can Bella handle the heartbreak? Overwhelmed with the pain of his loss and dug up memories of her painful childhood, Bella suffers a breakdown that only he can cure. Will he come back and put the pieces of her heart back together?
Mostly canon pairings. :)
Story is rated for NC-17 for future adult themes, language, and drug use. This story is intended for mature readers.
Categories:
AU-Human
Characters:
Alice
,
Bella
,
Carlisle
,
Charlie
,
Edward
,
Edward Masen, Sr.
,
Elizabeth Masen
,
Emmett
,
Esme
,
Jacob
,
James
,
Jasper
,
Jessica
,
Lauren
,
Renesmee
,
Rosalie
,
Victoria
Challenges:
Series:
None
Chapters:
2
Completed:
No
Word count:
1622
[Report This] Published:
August 01, 2009
Updated:
September 27, 2009
---



© 2008, 2009 Twilighted Enterprises, LLC. All Rights Reserved.
Unauthorized duplication is a violation of applicable laws.
Privacy Policy | Terms of Service


All publicly recognizable characters, settings, etc. are the intellectual property of their respective owners. The original characters and plot are the property of Stephenie Meyer. No copyright infringement is intended.