Your donations help keep this site running,
thank you very much for the support!

Penname:
itzmegan73 [
Contact
]
Real name:
Status:
Member
Member Since:
April 19, 2009
Website:
Beta-reader:
You know that feeling when you sit down with a list of your favorite fan fics and NONE of them have been updated? Yeah. I HATE that feeling.



[
Report This
]
A Rough Start
by
itzmegan73
Rated:
NC-17
[
Reviews
-
878
]
Summary:
Overnight, irresponsible Edward goes from bachelor to father of a 5 yr old boy. Meanwhile responsible, prepared Bella begins her first job as Kindergarten teacher at Forks Elementary. When irresponsible meets the epitome of responsible, sparks will fly!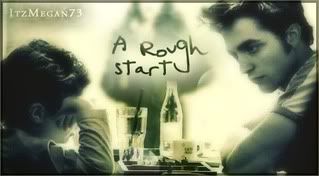 Categories:
AU-Human
Characters:
Bella
,
Edward
Challenges:
Series:
None
Chapters:
41
Completed:
Yes
Word count:
250550
[Report This] Published:
February 12, 2010
Updated:
August 31, 2011
The Tutor
by
itzmegan73
Rated:
NC-17
[
Reviews
-
1658
]
Summary:
School is in session and there are lots of lessons to be learned. Bella Swan, the newest student at Forks High School, needs to amend her shy and introverted ways and her guidance counselor has just the thing: tutoring! Besides, newbie Bella is probably the only student naïve enough to tackle Edward Cullen, a juvenile delinquent in training. Edward's main pastimes include avoiding school and hanging out with his lovelorn, best friend Jasper Hale. In Edward's opinion, Jasper needs a tutoring session of own in order to get over his ex- Alice. However Alice is too busy trying to console her friend Rosalie –who is only interested in one lesson: how to win the affections of Edward Cullen.
Categories:
AU
Characters:
Alice
,
Bella
,
Carlisle
,
Edward
,
Esme
,
Jasper
,
Jessica
,
Rosalie
Challenges:
Series:
None
Chapters:
35
Completed:
Yes
Word count:
162183
[Report This] Published:
April 19, 2009
Updated:
December 28, 2010
A Rough Start Outtakes
by
itzmegan73
Rated:
NC-17
[
Reviews
-
28
]
Summary:
Outtakes for the story A Rough Start
Categories:
AU-Human
Characters:
Bella
,
Edward
Challenges:
Series:
None
Chapters:
5
Completed:
No
Word count:
14605
[Report This] Published:
April 09, 2010
Updated:
April 09, 2010
---



© 2008, 2009 Twilighted Enterprises, LLC. All Rights Reserved.
Unauthorized duplication is a violation of applicable laws.
Privacy Policy | Terms of Service


All publicly recognizable characters, settings, etc. are the intellectual property of their respective owners. The original characters and plot are the property of Stephenie Meyer. No copyright infringement is intended.