Your donations help keep this site running,
thank you very much for the support!

Penname:
starcrossdlover [
Contact
]
Real name:
kate
Status:
Member
Member Since:
October 04, 2008
Website:
Beta-reader:
I have a degree in biopsychology and I am currently studying to be a nurse. Strange how I enjoy reading and writing so much...maybe I'm majoring in the wrong area :) Nah! My little sis told me I just had to read this new series she was hooked on and she handed me the first book. I put it off for about a month until one Sunday morning, I saw the book laying on my desk and decided that a little leisure reading would be good for me. So I opened the book to the first page and to say I was hooked would be an understatement. Eight days later I had purchased and read all four books and was half-way through re-reading Twilight. I just oculdn't get enough of it. Then I found this site and became engrossed in all of the wonderful fanfiction that I found. After reading countless stories, I had an idea, and I decided to try my hand at writing my first creative writing piece since elementary school. So far it is loads of fun and I am completely interested to see how it turns out and how people feel about it!



[
Report This
]
Farewell
by
starcrossdlover
Rated:
NC-17
[
Reviews
-
932
]
Summary: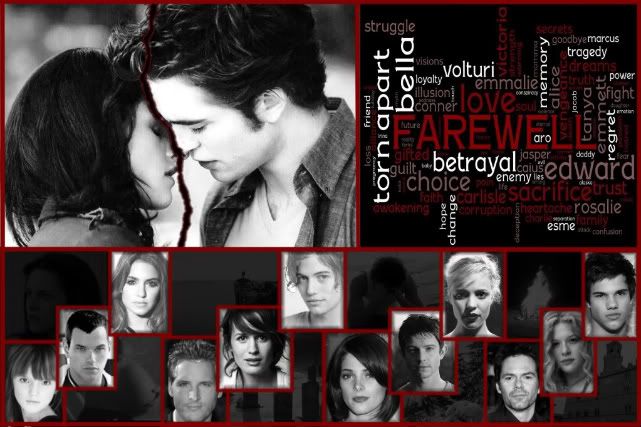 It's Bella's 18th birthday, and what does she want more than immortality? Her darling Edward's loving company—minus the clothing. To her surprise, Edward caves and when Bella gets some, she gets WAY more than she bargained for. Cue Edward's standard self-sacrificing departure, a snarky, homicidal Victoria with some powerful connections, and a new Bella who grows a belly and a backbone and goes on her own little hunting trip in Denali to find answers.

Farewell is a twisted tale where everything is not always as it seems. There is an underlying current of betrayal that may knock your socks off on one or two occasions. A FRIENDLY WARNING: This story is not full of fluffy bunnies and rainbows and unicorns. It has the tendency to be very dark, in both drama and humor, on some occasions. If you choose to read, well, welcome to the dark side lovelies...
Special thanks to randigiles for helping me straighten out my synopsis. You rock, babe!
Categories:
AU
Characters:
Alec
,
Alice
,
Angela
,
Aro
,
Bella
,
Caius
,
Carlisle
,
Carmen
,
Charlie
,
Chelsea
,
Demetri
,
Edward
,
Eleazar
,
Emily
,
Emmett
,
Esme
,
Felix
,
Irina
,
Jane
,
Jasper
,
Jessica
,
Kate
,
Lauren
,
Marcus
,
Other Character
,
Renee
,
Rosalie
,
Sam
,
Tanya
,
Victoria
Challenges:
Series:
None
Chapters:
33
Completed:
No
Word count:
214439
[Report This] Published:
October 11, 2008
Updated:
January 13, 2011
---



© 2008, 2009 Twilighted Enterprises, LLC. All Rights Reserved.
Unauthorized duplication is a violation of applicable laws.
Privacy Policy | Terms of Service


All publicly recognizable characters, settings, etc. are the intellectual property of their respective owners. The original characters and plot are the property of Stephenie Meyer. No copyright infringement is intended.