Your donations help keep this site running,
thank you very much for the support!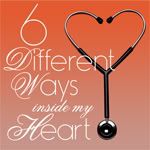 Penname:
april09 [
Contact
]
Real name:
Melanie
Status:
Member
Member Since:
April 02, 2009
Website:
Beta-reader:
I'm a mom, wife, writer, physician--basically a jack of all trades, master of none.




I discovered the Twilight series in January 09, during the last few weeks of a difficult pregnancy. The Twilight series and Twilight fan fiction helped me through the subsequent death of my daughter (from trisomy 18) and is helping me through the grieving process. I can't express my thanks enough to SM and the talented writers here for the escape, and for the inspiration to write again. Never thought I'd write fan fiction, but it's helping me through my writer's block.




I also have my masters in creative writing, and unintentionally put my writing on hold while finishing med school and residency so I am very happy to pick it up again. I hope to finish the novel I started writing ten years ago...




To find out more information about bone marrow donation: www.marrow.org/ABOUT/About_Be_The_Match/index.html




To find out more about donating your hair: www.locksoflove.org



[
Report This
]
Six Different Ways Inside My Heart
by
april09
Rated:
R
[
Reviews
-
797
]
Summary:
A story about love, about death, about keeping secrets, and dealing with the consequences. Bella and Edward meet at a hospital when she is diagnosed with a life threatening disease and he is recovering from knee surgery. She confides her fears to him; he changes his life because of her. This is a story about their journey through the confusion, awkwardness, pain, and beauty of first love.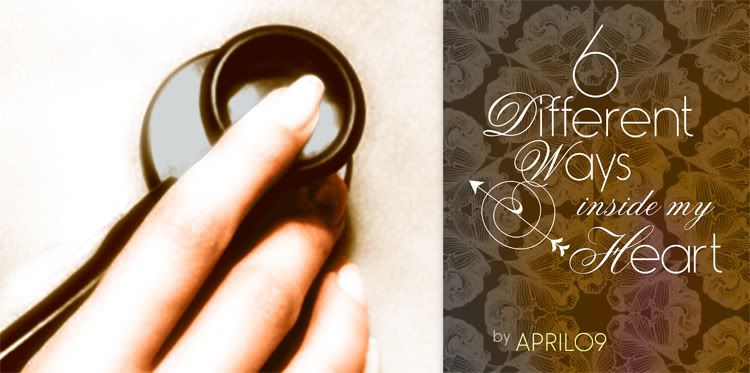 Excerpt from Chapter 2:
"What are you most afraid of?" Edward asks one last question.

"I'm not afraid of dying," I answer truthfully.
"You're not afraid of dying?" he repeats, incredulous.

"No. There's so much more. I'm afraid of losing my hair but that's not my biggest fear. I'm afraid of leaving my mom and dad all alone. I'm afraid that if I survive, I'll never have children of my own." I yawn again. Edward is quiet and I think for a moment that he's fallen asleep. "Edward," I whisper, in case he is asleep, "What are you most afraid of?"

"I'm afraid I'm falling for you," he whispers back so softly that I'm unsure if I've heard him correctly.
Categories:
AU-Human
Characters:
None
Challenges:
Series:
None
Chapters:
22
Completed:
Yes
Word count:
82940
[Report This] Published:
August 09, 2009
Updated:
October 03, 2011
Standing Quiet in the Rain
by
april09
Rated:
R
[
Reviews
-
62
]
Summary:
Bella struggles with issues of commitment while Edward waits decades for her to make up her mind. Alice interferes in her own usual ways. All-vamp AU. Originally written as a one-shot for the A Picture is Worth 1000 Words contest.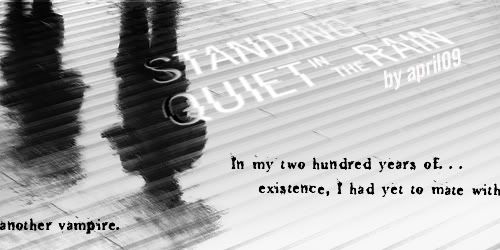 Photo Credit:
http://www.flickr.com/photos/jmsmytaste/ / CC BY-NC-SA 2.0
Excerpt from Chapter 1:
I traced the contours of Edward's face in the photograph, stopping for a moment at the cigarette in his mouth. His expressive amber eyes gazed out at the ocean before him, a different one than the one in front of me. Had he seen this beach? Had his footprints left marks upon the sand as he ran at beyond vampire speed towards the water? Could he walk hand in hand with me amongst these crashing waves?
No, he wouldn't be the one to ruin a commitment. Leave it to me to be the first vampire to go against the concept of vampires mating for life. For eternity.
Alice knew what she was doing when she sent me this particular photograph. Edward was playing a role. She knew—even if he didn't—that I had worked alongside Carlisle as a nurse in 1918. That I wasn't strong enough to change him myself. That I wasn't strong enough to stay.
Il mio cantante. Edward was my singer.
Even though the other pictures she sent were electronic and I didn't dare print them out for fear that someone would find them, I didn't need to see them in front of me to recall them in perfect detail. This was the first photograph of Edward posing as a human. As he was when I first met him.
Categories:
AU
Characters:
Alice
,
Bella
,
Charlie
,
Edward
,
Renee
Challenges:
Series:
None
Chapters:
7
Completed:
No
Word count:
10870
[Report This] Published:
April 12, 2010
Updated:
July 16, 2010
Beneath an Orange Sky (one shot)
by
april09
Rated:
R
[
Reviews
-
20
]
Summary:
Two people try to find their way back to each other over a ten-year time span. Inspired by An Affair to Remember. Written for An Edward to Remember—Classic Hollywood romance one shot contest

Photo Credit:
http://www.flickr.com/photos/pollyalida/ / CC BY-NC-SA 2.0
Excerpt:
"You could have called too," he counters. I step back and glare at him. We are still standing on the steps leading to my small cottage.
"I did call you," I say tersely, throwing my arms in the air and walking in to my living room, waiting for him to follow me. I dash back to grab the sharpie from the floor and finish labeling my boxes as he sits down on my couch, amongst bubble wrap and tape. "Several times. You never called me back."
"I didn't want to…interrupt anything," he says, mindlessly running his hands through his hair. "Look, I didn't come here to argue with you. I...I missed you too." I walk to the kitchen and carry back my last box of dishes and set it on the coffee table in front of him without acknowledging his last statement. I'm looking down at the box and taping it up when his hand comes up to stop me. "And…I am sorry, love."
I roll my eyes at him and toss him the tape so he can help me finish packing. I am not sure what he is sorry for, and even more uncertain if I want to ask. Does he regret the way we left things? Does he regret letting us drift apart? Or, does he regret everything?
Categories:
AU-Human
Characters:
None
Challenges:
Series:
None
Chapters:
1
Completed:
Yes
Word count:
10322
[Report This] Published:
February 25, 2010
Updated:
March 07, 2010
---



© 2008, 2009 Twilighted Enterprises, LLC. All Rights Reserved.
Unauthorized duplication is a violation of applicable laws.
Privacy Policy | Terms of Service


All publicly recognizable characters, settings, etc. are the intellectual property of their respective owners. The original characters and plot are the property of Stephenie Meyer. No copyright infringement is intended.