Your donations help keep this site running,
thank you very much for the support!

Penname:
Porcelain Mortal [
Contact
]
Real name:
Alyssa Marie
Status:
Member
Member Since:
September 12, 2008
Website:
Beta-reader:
No
My name is Alyssa, I'm 23 years old.




I've always been somewhat of a writer, but I've never let anybody read my creative work. I have trouble starting an original story completely from scratch. But with the amazing Twilight characters and relationships already in place, different stories and scenarios for them have been flitting around in my head since I read the novels.




"Blue Moon" is my first fanfic, and I am absolutely thrilled with the positive response it has been getting. I never expected that anyone else would love my [version of] Edward as much as I do. The fact that people accept him as I write him and are asking for more is incredibly flattering. I only hope I can keep my readers happy with what's to come. :o)




I always try to respond to every review I get, but if I miss yours, don't take it personally. It means I'm either blind or scatterbrained... probably both. Anyway, I'd like to thank everybody in advance for all future reviews.



[
Report This
]
Blue Moon
by
Porcelain Mortal
Rated:
PG-13
[
Reviews
-
600
]
Summary:
Edward finally gives in to his desire to "check up" on Bella after he left. He vowed only to watch her from a distance, but how can he resist the force of the love that brought him back in the first place? When Bella's life is in danger again, will Edward be able to save her one last time?
This is a story that's been bouncing around in my head so much it finally demanded to be written. Edward's POV.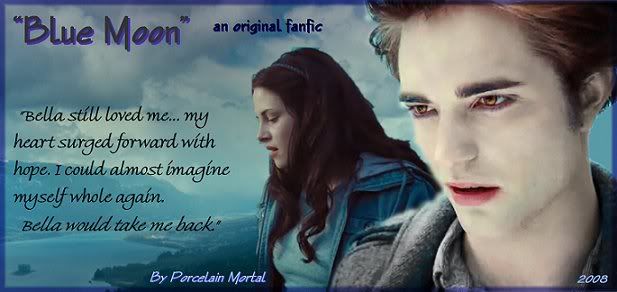 Categories:
New Moon
,
AU
Characters:
Alice
,
Bella
,
Edward
,
Jacob
Challenges:
Series:
None
Chapters:
22
Completed:
Yes
Word count:
51875
[Report This] Published:
September 29, 2008
Updated:
March 22, 2012
---



© 2008, 2009 Twilighted Enterprises, LLC. All Rights Reserved.
Unauthorized duplication is a violation of applicable laws.
Privacy Policy | Terms of Service


All publicly recognizable characters, settings, etc. are the intellectual property of their respective owners. The original characters and plot are the property of Stephenie Meyer. No copyright infringement is intended.