Your donations help keep this site running,
thank you very much for the support!

Penname:
rachaelprincess [
Contact
]
Real name:
rachael
Status:
Member
Member Since:
September 09, 2008
Website:
http://www.fanfiction.net/~princessrachael
Beta-reader:
Yes
I'm a solid Star Wars fan fiction writer who for some bizarre reason decided to write a Twilight story because it kept getting in the way. Don't worry - I keep the two genres very far apart. No overlapping whatsoever. Han Solo wouldn't believe in Edward Cullen anyway.




You can find my Star Wars stuff at the website listed above.




My Twilight work is posted here.



[
Report This
]
My Power
by
rachaelprincess
New!
Rated:
NC-17
[
Reviews
-
93
]
Summary: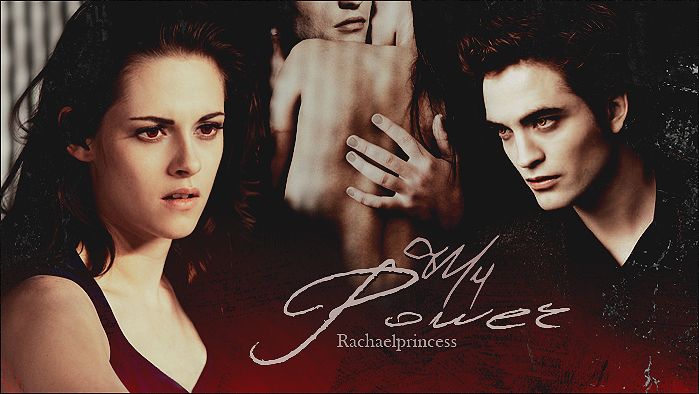 Sequel to My Mate. A destructive group of vampires have discovered Edward's power. How far will they go and how will Edward fight them when the life of his mate Bella becomes the issue? Graphic lemons, violence, sensitive themes. Mature.
Categories:
AU
Characters:
Bella
,
Edward
Challenges:
Series:
None
Chapters:
13
Completed:
No
Word count:
41205
[Report This] Published:
December 22, 2012
Updated:
May 14, 2013
My Mate
by
rachaelprincess
Rated:
NC-17
[
Reviews
-
666
]
Summary:
She was lost in him, the taste of his blood and the feel of his skin against her mouth. She acknowledged that from this moment on there would be no turning back.
Summary: Two reluctant vampires find themselves mated, each requiring the other's blood to survive. She will fight it. He will fight for her. In the end, their blood will save them both.
Story contains adult themes, graphic lemons, and violence.
A generous thank you to FrozenSoldier for the beautiful banner above. I want your talent.
Categories:
AU
Characters:
Bella
Challenges:
Series:
None
Chapters:
32
Completed:
Yes
Word count:
103606
[Report This] Published:
January 25, 2012
Updated:
July 13, 2012
---



© 2008, 2009 Twilighted Enterprises, LLC. All Rights Reserved.
Unauthorized duplication is a violation of applicable laws.
Privacy Policy | Terms of Service


All publicly recognizable characters, settings, etc. are the intellectual property of their respective owners. The original characters and plot are the property of Stephenie Meyer. No copyright infringement is intended.