Your donations help keep this site running,
thank you very much for the support!

Penname:
jovo_xo [
Contact
]
Real name:
Status:
Member
Member Since:
March 13, 2009
Website:
Beta-reader:
No
Currently:




reading Pygmy by Chuck Palahniuk,




sent in Chapter One of The Cullen Boy for validation.




Writing Chapter Two of The Cullen Boy.



[
Report This
]
The Cullen Boy
by
jovo_xo
Rated:
R
[
Reviews
-
33
]
Summary:
The day of Edward Cullen's mysterious death, the only clues that Carlisle Cullen had to his son's death are those that Edward leaves behind in a secret ledger, one that mysteriously appears on Carlisle's doorstep. The diary, containing Edward's many secrets, draws Carlisle to Edward's clandestine life: his affair with the flighty Tanya, special moments with his best friend Bella, and the real reason why Esme Cullen had left him so many years ago. Carlisle becomes obsessed with the ledger, desperately trying to understand the son he had failed to acknowledge in life.
Based on my favorite novel, The Every Boy by Dana Adam Shapiro, with some Twilightesque twists.
Rating subject to change.
Amazing banner by Heatherdawnc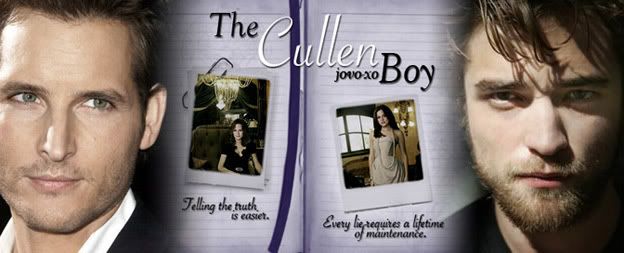 Categories:
AU
Characters:
Bella
,
Carlisle
,
Edward
,
Esme
,
Tanya
Challenges:
Series:
None
Chapters:
5
Completed:
No
Word count:
5873
[Report This] Published:
May 05, 2009
Updated:
August 25, 2009
Curiosity Killed the Cat
by
jovo_xo
Rated:
R
[
Reviews
-
28
]
Summary:
Summary: Bella Swan moved from her home in Phoenix to join Charlie in Forks, Washington. Immediately, she is drawn to the strange, reclusive Edward Cullen, but at the advice of her friends Alice Brandon and Rosalie Hale, she decides not to tempt fate by approaching him. However, what she witnesses one afternoon changes all that, as she delves deeper into his world and learns his shocking secret.
Categories:
AU
Characters:
Bella
,
Edward
Challenges:
Series:
None
Chapters:
4
Completed:
No
Word count:
7955
[Report This] Published:
March 22, 2009
Updated:
April 18, 2009
---



© 2008, 2009 Twilighted Enterprises, LLC. All Rights Reserved.
Unauthorized duplication is a violation of applicable laws.
Privacy Policy | Terms of Service


All publicly recognizable characters, settings, etc. are the intellectual property of their respective owners. The original characters and plot are the property of Stephenie Meyer. No copyright infringement is intended.