Your donations help keep this site running,
thank you very much for the support!

Penname:
collegemama [
Contact
]
Real name:
Marcy
Status:
Member
Member Since:
March 09, 2009
Website:
Beta-reader:
I am a graduate student, working on my PhD. I write fanfic to relax from a crazy-stressful life and it's also a great way to procrastinate! I'm working on my Dissertation now so I should have plenty of motivation to procrastinate for the next year.




I'm married and have two young children. Those guys are the reason I work so hard!



[
Report This
]
Vampires and Lovers and Hollywood, Oh My
by
collegemama
Rated:
NC-17
[
Reviews
-
14
]
Summary: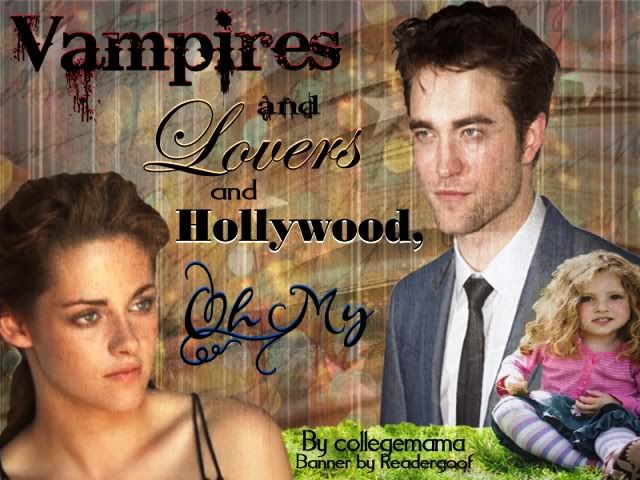 Alternate Universe. Humanity knows about vamps, the Volturi isn't entirely evil, and there are a few characters not associated with Ms. Meyer's books. Edward is a famous star, and a three hundred year old vampire. Bella is a thirty year old mother and student. Are they destined to be together? If so, can they reconcile these radically different lifestyles?
Categories:
AU
,
Crackfic
Characters:
Edward
Challenges:
Series:
None
Chapters:
3
Completed:
No
Word count:
6590
[Report This] Published:
March 27, 2011
Updated:
May 18, 2011
---



© 2008, 2009 Twilighted Enterprises, LLC. All Rights Reserved.
Unauthorized duplication is a violation of applicable laws.
Privacy Policy | Terms of Service


All publicly recognizable characters, settings, etc. are the intellectual property of their respective owners. The original characters and plot are the property of Stephenie Meyer. No copyright infringement is intended.