Your donations help keep this site running,
thank you very much for the support!

Penname:
Soldiers_pixie [
Contact
]
Real name:
Rebecca
Status:
Member
Member Since:
March 06, 2009
Website:
www.fanfiction.net/~beckyhelene
Beta-reader:
No
Hello all! Thank you for your apparent interest in reading up on little ole me.




Anyway, I'm a 24 year old college student and aspiring writer from New York City. I've been writing since I was seven, and writing fanfiction since I was thirteen.




I've written fanfics for different fandoms over the years and have more recently (as in, about a year) been writing in the Twilight fandom. At the moment I've started two pieces and I hope to continue adding onto that list as the Twilight muses continue to toy with me.






[
Report This
]
Kept From Destiny
by
Soldiers_pixie
Rated:
NC-17
[
Reviews
-
19
]
Summary:
AU. A newly turned Alice is found by, and taken under the wing of, James. Though she knows there is something better out there for her, fear keeps her in a life that leaves her numb. Will she ever be able to reach the destiny that awaits her, or will she forever be kept from its grasp?
Warning: This story deals with mature themes, including sexual abuse.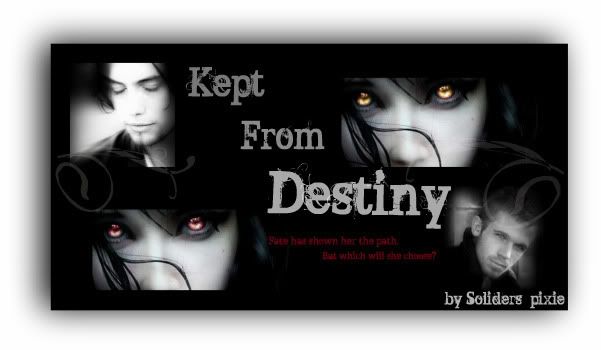 Many thanks to the awesome JayJayHale for the lovely banner.
Categories:
Pre-Twilight
,
AU
Characters:
Alice
,
James
,
Jasper
Challenges:
Series:
None
Chapters:
7
Completed:
No
Word count:
30126
[Report This] Published:
November 03, 2009
Updated:
February 17, 2010
College Daze
by
Soldiers_pixie
Rated:
PG-13
[
Reviews
-
4
]
Summary:
Freshman Bella Swan meets and becomes close friends with college roommate Alice Cullen. This friendship thrusts Bella into the Cullen's world of wealth, glitz, glamour, and secrets.
Categories:
AU-Human
Characters:
Alice
,
Bella
,
Edward
,
Emmett
,
Jasper
,
Rosalie
Challenges:
Series:
None
Chapters:
2
Completed:
No
Word count:
9444
[Report This] Published:
November 03, 2009
Updated:
November 06, 2009
---



© 2008, 2009 Twilighted Enterprises, LLC. All Rights Reserved.
Unauthorized duplication is a violation of applicable laws.
Privacy Policy | Terms of Service


All publicly recognizable characters, settings, etc. are the intellectual property of their respective owners. The original characters and plot are the property of Stephenie Meyer. No copyright infringement is intended.