Your donations help keep this site running,
thank you very much for the support!

Penname:
ken7 [
Contact
]
Real name:
Status:
Member
Member Since:
March 04, 2009
Website:
Beta-reader:
No


[
Report This
]
The Shadows Creep
by
ken7
Rated:
NC-17
[
Reviews
-
26
]
Summary:
Bella does not make it in time to save Edward, and he dies at the hand of the Volturi. But is Edward truly gone when she hears his voice? Sees him standing over her in her sleep? What is real when one wakes to have one's most desired wish, only to have it ripped away each and every time? Can love really be stronger than even death? Who is to be trusted, and who is to be feared? The agony, the want, the need becomes an obsession, until Bella has to find the answer to a question long asked. What happens after a vampire dies? A Twilight ghost story unlike any before.
Warnings: Thoughts and actions of suicide, sexual images and situations, violence, subjects of witchcraft and magic, substance abuse, and disturbing imagery.
Categories:
New Moon
,
AU
Characters:
None
Challenges:
Series:
None
Chapters:
2
Completed:
No
Word count:
3641
[Report This] Published:
March 13, 2011
Updated:
May 04, 2011
Fall to Pieces and Twist them Tighter
by
ken7
Rated:
NC-17
[
Reviews
-
5
]
Summary: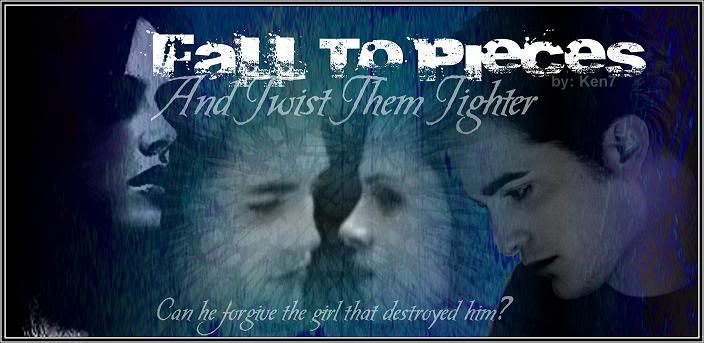 Bella Swan is a girl scorned by circumstances beyond her control. Wild and jaded, she shakes up anything in her path, uncaring of those she hurts. Her mistakes are many, but never had she regretted until Edward Cullen came into the picture.
Edward is haunted by the horrible things he's witnessed throughout his life, and his world is further warped by the new girl, Bella Swan, and he is left helpless under her power over him.
Bella wants to correct her mistakes but will Edward find it within himself to forgive the very girl that destroyed him? AH/OOC
Rated for dark subject matter, abuse, language, lemons, and non-con sexual situations.
Categories:
AU-Human
Characters:
Edward
Challenges:
Series:
None
Chapters:
1
Completed:
No
Word count:
1785
[Report This] Published:
September 25, 2009
Updated:
September 27, 2009
---



© 2008, 2009 Twilighted Enterprises, LLC. All Rights Reserved.
Unauthorized duplication is a violation of applicable laws.
Privacy Policy | Terms of Service


All publicly recognizable characters, settings, etc. are the intellectual property of their respective owners. The original characters and plot are the property of Stephenie Meyer. No copyright infringement is intended.