Your donations help keep this site running,
thank you very much for the support!

Penname:
cassieleexo [
Contact
]
Real name:
Cassie Blecha
Status:
Member
Member Since:
March 03, 2009
Website:
Beta-reader:
No
So, I'm Cassie. I'm 19 and live in the wonderful but way too hot - Australia.
I am a learning graphic designer, who loveeeeesss to make banners, so hit me up if you want one! :)
I also dabble in Photography. I love capturing photo's of children and portraits.

I eventually want to move back home - aka Colorado. However, money is a necessity. :)

anyways - that's me! i wont bite so if you want to chat, send me a PM or email me!



[
Report This
]
Impossible to Forget
by
cassieleexo
Rated:
NC-17
[
Reviews
-
140
]
Summary:
Bella was taken away from Forks, and her best friend Jasper Hale, at the age of 12, by Renee. 5 years later she runs away from Phoenix and back to the only place that ever felt like home. How does she settle back into small town life? Rated M.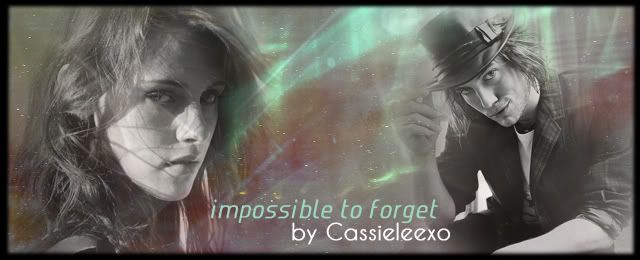 Categories:
AU-Human
Characters:
Alice
,
Bella
,
Edward
,
Emmett
,
Jasper
,
Rosalie
Challenges:
Series:
None
Chapters:
13
Completed:
No
Word count:
26163
[Report This] Published:
June 29, 2009
Updated:
May 04, 2010
---



© 2008, 2009 Twilighted Enterprises, LLC. All Rights Reserved.
Unauthorized duplication is a violation of applicable laws.
Privacy Policy | Terms of Service


All publicly recognizable characters, settings, etc. are the intellectual property of their respective owners. The original characters and plot are the property of Stephenie Meyer. No copyright infringement is intended.