Your donations help keep this site running,
thank you very much for the support!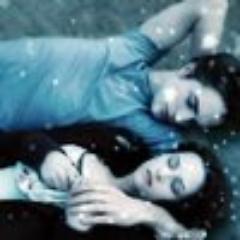 Penname:
sanguinescriptor [
Contact
]
Real name:
Status:
Member
Member Since:
June 24, 2013
Website:
http://www.fanfiction.net/u/303207
Beta-reader:
No
FYI: ALL CURRENT CHAPTERS ARE POSTED TO FFN FIRST

I'm Team Vampires, Team Semi srs bns and affiliate with Team Confused.

I remember getting handed an advance copy of the first book, reading it, thinking it was okay and promptly forgetting about it. Then I heard that the book was being made into a film, laughed and decided to catch up with the rest of the series. The first movie was released, and the whole thing went super nova, catching lots of folks by surprise, myself included.

I've been around for a long time and I'm still dazzled by how quickly the fandom grew. My story Cracked Marble is an exercise born of nostalgia and the desire to write a story and finish it for once, damn it. CM's banner was done by the awesome Kassiah.

If you want to follow me on twitter for fic related updates, teasers in 140 characters, and general rambles, follow me at SanguineScript.

I usually try to remember to submit standard teasers over at FicTease and FicCentral. If you follow any (or all) of the sites, please check out my teasers. 



[
Report This
]
Marble Fragments (Cracked Marble Outtakes)
by
sanguinescriptor
Rated:
R
[
Reviews
-
0
]
Summary:
Cracked Marble outtakes spanning the lives of both Edward and Bella. Alternative POVs by those closest to them. M because vampires will be vampires.
Categories:
AU
Characters:
None
Challenges:
Series:
None
Chapters:
8
Completed:
No
Word count:
10956
[Report This] Published:
June 03, 2014
Updated:
April 02, 2015
Cracked Marble
by
sanguinescriptor
Rated:
NC-17
[
Reviews
-
14
]
Summary: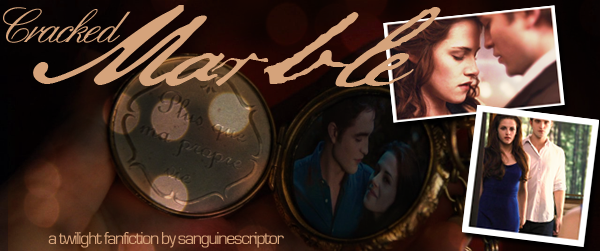 Our skin is ice cold and hard like diamonds, but we are flawed. Fine lines where we should complete each other are empty. We are like cracked marble, but can we put ourselves back together after all this time? For almost a century, Edward and Bella have lived a life that neither imagined. Can an unexpected reunion in Forks repair it all? ExB/AU/OCs/M - for vampire violence
Categories:
AU
Characters:
Bella
,
Edward
Challenges:
Series:
None
Chapters:
16
Completed:
No
Word count:
55801
[Report This] Published:
January 06, 2014
Updated:
March 05, 2015
---



© 2008, 2009 Twilighted Enterprises, LLC. All Rights Reserved.
Unauthorized duplication is a violation of applicable laws.
Privacy Policy | Terms of Service


All publicly recognizable characters, settings, etc. are the intellectual property of their respective owners. The original characters and plot are the property of Stephenie Meyer. No copyright infringement is intended.