Your donations help keep this site running,
thank you very much for the support!

Penname:
sweetcrimefighter [
Contact
]
Real name:
Lieselot
Status:
Member
Member Since:
March 01, 2009
Website:
Beta-reader:
No
I absolutely love the Twilight Saga, I read all 4 books in 4 days in a language that isn't even my own. I love to write fanfiction stories and stories of my own imagination and character developments. Writing is my biggest passion, my second biggest pasion in making music videos. I love to listen to music and let those songs insipire not only my writing, but also my moods. I can instantly be happy or angry or sad when listening to a song. I always feel strong emotions when it comes to music.



[
Report This
]
The Changing : A Different World
by
sweetcrimefighter
Rated:
R
[
Reviews
-
38
]
Summary:
After Edward leaves Bella in the forest in New Moon, she falls asleep after trying to find him and wakes up in a room. She doesn't recognize where she is, and when she finds out, she thinks she has gone mental. She is in a completely different world, yet, with the same people she knew in Forks. Including a certain family she once thought to be part of.
This amazing banner was made by the very talented Anne Cullen! Thanks!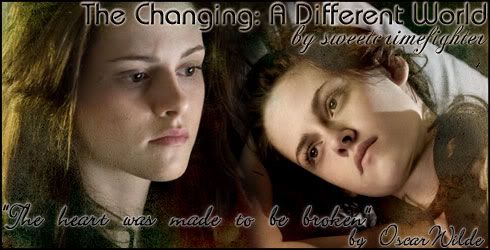 Banner made by the wonderful Cathy Lawson! Thank you SO much!
Categories:
New Moon
,
AU
Characters:
Alice
,
Angela
,
Bella
,
Charlie
,
Edward
,
Emmett
,
Esme
,
Jasper
,
Lauren
,
Mike
,
Other Character
,
Renee
Challenges:
Series:
None
Chapters:
3
Completed:
No
Word count:
18293
[Report This] Published:
March 30, 2009
Updated:
May 27, 2009
---



© 2008, 2009 Twilighted Enterprises, LLC. All Rights Reserved.
Unauthorized duplication is a violation of applicable laws.
Privacy Policy | Terms of Service


All publicly recognizable characters, settings, etc. are the intellectual property of their respective owners. The original characters and plot are the property of Stephenie Meyer. No copyright infringement is intended.