Summary: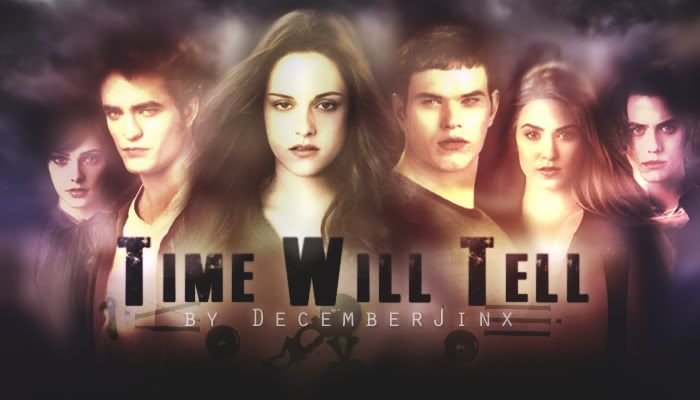 ****CHAPTER 18 FORMATTING ISSUE HAS BEEN CORRECTED. MY APOLOGIES ... I HAVE NO IDEA HOW THAT HAPPENED. I DIDN'T EVEN DO ANYTHING TO FIX IT. I JUST HIT THE REPOST BUTTON AND THE TEXT WAS THERE THIS TIME... ? SORRY :)
Nearly three months after the Cullens left Bella back in Forks, Alice is in trouble. Jasper fears that he might lose his love forever. However, there is a way to save her, but it is fraught with danger, and only one person can help ... Bella.
How will this end up affecting Bella? Will she be reunited with Edward and the Cullens? Will she be reunited with her true love? Or will she find that because of her actions, things have changed dramatically?
Only ..."Time Will Tell ."
Canon Pairings ... to start off the story.
But, will everything remain as it once was? Only "Time Will Tell."
This Story is written entirely from Bella's point of view.
JUST REMEMBER, WHEN IT COMES TO THIS STORY, NOT ALL IS AS IT SEEMS.
I SINCERELY HOPE YOU ALL GIVE THIS STORY A CHANCE. I TRULY BELIEVE THAT YOU IF YOU DO, YOU WILL BE PLEASANTLY SURPRISED. I ASSURE YOU... "TIME WILL TELL," WILL BE UNLIKE ANY OTHER STORY THAT YOU'VE EVER READ!
SO, HOP ON THE STORY-TRAIN, AND ENJOY THE WILD RIDE...AND IT WILL BE A WILD RIDE...PROMISE!
Thanks to Echanted_Mind for creating the awesome story banner! She is a true artist!
Categories:
New Moon
,
Eclipse
,
AU
Characters:
Alice
,
Bella
,
Carlisle
,
Charlie
,
Edward
,
Emmett
,
Esme
,
Jasper
,
Other Character
,
Rosalie
Challenges:
Series:
None
Chapters:
18
Completed:
No
Word count:
95780