Your donations help keep this site running,
thank you very much for the support!

Penname:
BlackMoon29 [
Contact
]
Real name:
Status:
Member
Member Since:
April 14, 2012
Website:
Beta-reader:
Hi, my pen name, as you know,is BlackMoon29,l and I am 29 years old. I'm a project manager for a constrution General Contractor. I still play hockey three times a week. I just couldn't give it up after playing high school and then Division 2 College Hockey.




I became a twilight fan several years ago after mindlessly picking up a copy of the first book which belonged to my sister. It's true, male Twilight fans are not a myth. I work in construction and play hocky three times a week




Maybe, I should be little embarrased though. It's probably not a good sign when your mother, and little sister, make fun of you for loving "Twilight."




But I love Twilight, and I love to write. So I guess that's why I'm here.




Anyway:




I read a great Emmett/Bella fic last year, and honestly, ever since I read it, I truly have difficult time picturing Bella anyone but Emmett and vice versa.




Emmett has definitely become my favorite character. I love writing him because I think he's a lot deeper than people realize. It seems most people think of him as a big dumb jock. But, I when I write him, I like to write him as intellegent and deep. He simply uses his sense of humor as a tool.




I have multiple fanfiction stories posted on another site, but I just had my first chapter validated and posted yesterday on "Twilighted.net." The name of my story is, "The Chronicles of Bella an Emmett"




It's a long one. I already have 19 chapters written and over 160,000 words, and I think I'm close to half done with the story. Unfortunately, you can only submit one chapter at a time, and then wait while it gets validated or rejected before it's posted.




So as long as I don't run into difficulty getting the chapter validated so the can be posted. This story will be updated two maybe three times per week.




I also have another story that I submitted a little over a week ago. It took close to a month for my current story to be validated and posted once I submitted it. So hopefully there won't be any issues with the new story and it will be up soon. For those of you who don't write, if your chapter too many grammatical or spelling errors, then it gets a big fat reject stick stamped on it. Trust me I know.




Thanks to anyone who has read the beginning of my story. I hope you stick wiith it as things really start to get interstesting in chapter six.




Best Wishes to you all.



[
Report This
]
The Chronicles of Bella & Emmett
by
BlackMoon29
Rated:
NC-17
[
Reviews
-
305
]
Summary:
THANKS TO ALL OF YOU WHO HAVE LEFT SUCH OVERWHELMING, AMAZINGLY POSITIVE REVIEWS! I'M TRULY HUMBLED.
Nearly fifty-five years after her "tranformation," Bella Swan, moves to Gatlinburg, Tennessee in the year 1935. Upon her arrival, she meets a massive, bear of man, with a million-watt dimpled smile and hypnotic blue eyes. A human—Emmett McCarty. The chemistry between them is immediate, but where will it lead them?
Bella Swan: After nearly fifty-five years of being on her own, Bella can either accept the destiny that has been laid bare before her feet, or she can resist it and attempt to fight fate.
Emmett McCarty: Emmett supects something "otherworldy" about Bella Swan from the moment he meets her. After their first encounter, will Emmett's life ever be the same again?
PAIRINGS: Bella/Emmett, Jasper/Alice, Carlisle/Esme, Peter/Charlotte, Edward/ Rosalie or an Alternate Character, Rosalie/ Edward or an Alternate Character
Mature Readers Only: Story is rated NC-17 for Graphic Sexuality.
A Special Thank you to Enchanted-Mind for creating this wonderful Banner! And another special thank you to my awesome "Twilighted Beta," nikkipattinson!
Categories:
Pre-Twilight
,
Post-Breaking Dawn
,
AU
Characters:
Alice
,
Aro
,
Bella
,
Caius
,
Carlisle
,
Charlotte
,
Edward
,
Eleazar
,
Emmett
,
Esme
,
Jacob
,
Jasper
,
Marcus
,
Peter
,
Rosalie
,
Sam
Challenges:
Series:
Emmett Stories
,
Bella & Emmett Romantic Pairings
Chapters:
10
Completed:
No
Word count:
82597
[Report This] Published:
April 14, 2012
Updated:
August 24, 2012
EARTH ANGEL
by
BlackMoon29
Rated:
NC-17
[
Reviews
-
57
]
Summary:
A special thank you to my pre-submission beta, MommasLittleMasochist, and my Twilighted Beta, nikkipattinson!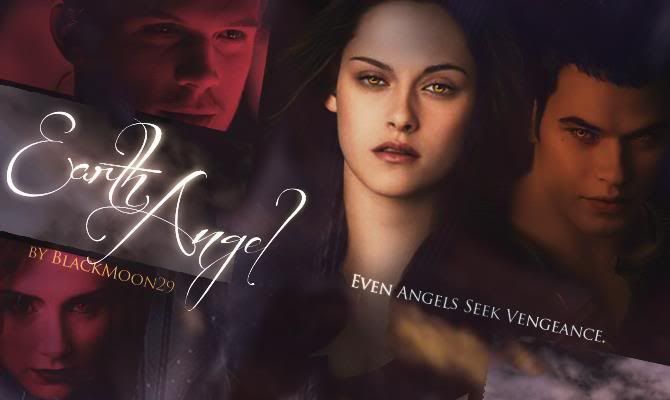 After years of mourning the loss of her parents, Bella enrolls in school at Forks High, where she meets the Cullen "children," and instantly realizes that her life will never be the same again.
Unimaginably, Bella's past collides head-on with her future ... in ways she never thought possible. In fact, it shouldn't be possible ... at all.
A/U - Twilight
I would like to offer my sincerest "thank you," to the amazingly talented, Enchanted_Mind, for creating such a wonderful banner ... again. If you're looking for a banner, I don't think you can find anyone better, or easier to work with, than the kind and talented, Enchanted_Mind!
Categories:
Twilight
,
AU
Characters:
Alice
,
Bella
,
Carlisle
,
Charlie
,
Edward
,
Emmett
,
Esme
,
Jasper
,
Rosalie
Challenges:
Series:
None
Chapters:
2
Completed:
No
Word count:
9017
[Report This] Published:
May 03, 2012
Updated:
June 14, 2012
---



© 2008, 2009 Twilighted Enterprises, LLC. All Rights Reserved.
Unauthorized duplication is a violation of applicable laws.
Privacy Policy | Terms of Service


All publicly recognizable characters, settings, etc. are the intellectual property of their respective owners. The original characters and plot are the property of Stephenie Meyer. No copyright infringement is intended.