Your donations help keep this site running,
thank you very much for the support!

Penname:
lady libre [
Contact
]
Real name:
denise Leora madre
Status:
Member
Member Since:
April 02, 2011
Website:
Beta-reader:
No
Greetings all!

I am a mid-thirties Twihard who fell in love with the series about a year after my then-sixteen year old stepson came back from seeing Twilight and said, "You would like it because it's a love story." I said, "A love story about vampires? I don't know about that." I'd liked Interview with the Vampire well enough – but that was more about Brad Pitt and Antonio Banderas than anything else – but I didn't think I'd be into a teenage tale about lovesick vampires.

Fast forward a year, and an old friend tells me that her daughter is reading the second book of the Twilight series. "That vampire love story is based on a BOOK?" I thought. My lusty bibliophile could hardly leave that alone, so I borrowed Twilight from her, finished it in a day, and my love for the Twiverse was born. I promptly put the movie in my Netflix queue, took New Moon from my friend's daughter – she should have been focused on her schoolwork anyway – and waited with bated breath for New Moon to come out in theatres. I've since seen each of the remaining three movies in theaters and think it an unbelievable cruelty that I should have to wait a whole year to see Breaking Dawn: Part 2. I bet the Volturi is behind this….

Outside of my moonlighting in Forks, I live in Philadelphia where I have lived my entire life. I'm a stay-at-home Mom and business owner who unschools her two little children while growing into her role as stepmom to five older children. I have a hard-earned degree in English which I primarily use to bemoan the state of contemporary English and justify my urge to hand out apostrophe-abuse citations. I published an essay in an anthology about fathers a few years ago and have completed a semi-autobiographical novel that I hope to publish before my children have to put me in a home. Although, as long as the words in the Welcome Packet are spelled correctly, I don't think I'd mind.

When I'm not writing, reading, or harassing my Hubby for hugs, I can be found watching The Big Bang Theory, trying to complete a cross-figure (mathematic crossword puzzle), and trolling this website for great stories to read.

My favorite living authors are Pearl Cleage, Nicholas Evans, Diana Gabaldon, John Grisham, Diane McKinney-Whetstone, Toni Morrison, Jennifer Weiner, and God. That Bible of His gets better with every read :)

My favorite non-living authors are Louisa May Alcott, Jane Austen, James Baldwin, Charles Dickens, Fyodor Dostoyevsky, and Alexandre Dumas.

In my playlist, you will find the likes of Kenny Chesney, MaryMary, Stevie Wonder, Mariah Carey, Melissa Etheridge, and the Spice Girls. It may look a little schizophrenic, but it works for me.

Welcome to my version of the Twiverse! I hope you like it here.


[
Report This
]
Serenity's Prayer
by
lady libre
Rated:
NC-17
[
Reviews
-
567
]
Summary: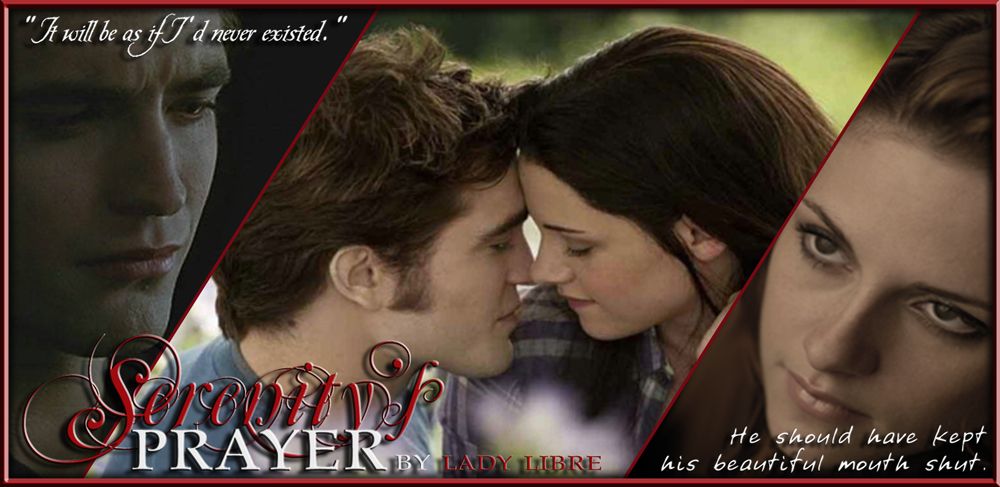 When Edward takes Bella into the forest after her disastrous birthday party in New Moon, Bella's reaction is nothing like he expected. Will this be the end of their love or will they find a new path to forever? A canon-based but very different AU approach to New Moon. Some OOC and OC.
Categories:
New Moon
Characters:
Bella
,
Edward
Challenges:
Series:
None
Chapters:
47
Completed:
No
Word count:
206889
[Report This] Published:
February 01, 2012
Updated:
July 03, 2014
Black Ice
by
lady libre
Rated:
NC-17
[
Reviews
-
59
]
Summary:
"Two frozen souls with depth and desire / Together create something stronger than fire..." BLACK ICE... an AU story of pre-Twilight Edward and Rosalie. What really happened between Carlisle's first two children? And how will it affect their relationships with their future mates? A canon-based but very different Roseward tale.
Categories:
Pre-Twilight
,
Twilight
Characters:
Edward
,
Rosalie
Challenges:
Series:
None
Chapters:
23
Completed:
No
Word count:
48909
[Report This] Published:
September 06, 2012
Updated:
July 03, 2014
---



© 2008, 2009 Twilighted Enterprises, LLC. All Rights Reserved.
Unauthorized duplication is a violation of applicable laws.
Privacy Policy | Terms of Service


All publicly recognizable characters, settings, etc. are the intellectual property of their respective owners. The original characters and plot are the property of Stephenie Meyer. No copyright infringement is intended.