Your donations help keep this site running,
thank you very much for the support!

Penname:
RaindropSoup [
Contact
]
Real name:
Status:
Member
Member Since:
January 17, 2011
Website:
Beta-reader:
Find me on:
TWITTER: @vRSoup
FanFiction.net . TWCS . TwiWrite . Impassionate Magic
The LUV'NV (Creator) — Twitter: @TheLUVNV. FanFiction: community and profile
Project Team Beta (Beta & Mod)
Twific Central (WCs) — Thursdays, 10PM EST. Form: http://bit.ly/tfcmdwc.
Another psuedo-name and account — TheOtherSoup




28. Wife. Mom to three. Graphic artist. Pre-reader. Beta and Mod. Dabbler. Prefers non-canon pairings with the characterizations canon.

Reading and writing are my passionate indulgences; I'll do either when I can find the time. I wholeheartedly believe the majority of writers are made and not born, as well. It's a learning experience, a damn exercise. You kwim? Read that sentence again if you don't, or when you get disheartened because passionate authors do at one point or another.

Because of PTB, I've learned so much about writing—and I'm not just talking about punctuation and grammar. They edited Chapters 1-9 of IL&W after the chapters were posted, but along the way they really helped me as a writer for Chapter 10 and onwards. I hope it goes to show how much a good beta and listening to those amazing women could do for—not only a story—but also for a writer. Check them out! http://bit.ly/projtmbeta

Join me and other writers for a WC, Thursdays, 10PM EST. Form — http://bit.ly/tfcmdwc. I feature a fic on TwiFic Central the following Friday from one of the participants. What are WCs? Productive fun, that's what.

MY INTERVIEWS: sapphirescribe from TwiFic Database . CareMarie from The LUV'NV .
NOMS: Master of Cliffhangers (IL&W) in The Sunflower Awards




---




IN LOVE AND WAR
Also on FanFiction.net . TwiWrite . Blog .




NOMS/MENTIONS:
Rec'd and reviewed in the "Banner Boner" segment on the Wayward Pushers
Rec'd and interviewed by the wonderful credoroza on her blog, Fandom Fanatic (She even made it a Caius weekend!)
Nominated in The Shimmer Awards for Best Lion and Apple (Non-Canon), Best Climax (Drama), and the Tale (Best AU) Awards – 01/23/12
Caius Volturi nominated Best Other Character in The Sunflower Awards – 01/23/12
Nominated "Best Shock Value" in the Avant Garde Awards (1st Round)
Nominated for "Best Other Character" (Caius Volturi), "Best Vampire Story," "Best Drama," "Best Quote," and "Best Banner" in The Sunflower Awards
Polled in Project Team Beta's "Best Non-Canon Pairing Fic"
Featured and Reviewed as Twific Database's "Pick of the Week"
Nominated for "Best OOC Pairing" in the Obsessed With FanFiction Awards (Winner by default. There were no other nominees in that category. :/ Thanks for voting though!)

GRAPHICS/PICS:
BANNER . BUTTON . BANNER #2 by blue fox
Caius Volturi — Isabella Swan
Misc. Pics and Polyvores — Chapter: 12 /

PLAYLISTS:
ALL SONGS . THEME SONGS
Chapter 7: CAIUS POV . JACOB POV / 8 / 9 / 10 / 11 / 12 /13




BLOG — Teasers, more pics, and everything IL&W
DISCUSSION FORUM on Twilighted.net




---





OTHER WORKS:

PTB's Smut University
(Stand-alone one shots; some future MCs. Various Pairings, Canon and Non)
The Thought That Counts
(Edward & Alec. Written for the TwiKinkFest)
The War Within
(Jasper. IL&W Companion Piece)






[
Report This
]
In Love and War
by
RaindropSoup
Rated:
NC-17
[
Reviews
-
59
]
Summary: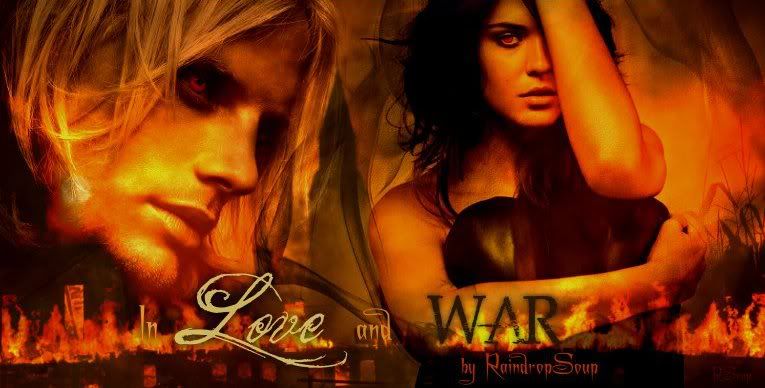 History is what defines us, personal and otherwise. To conquer it, one must decide not what they love more, but what's more important, and where one stood—with ALL things considered—could make all the difference.
AU-NM. All TwiCharacters. Nom'd "Best Shock Value" in the Avant Garde Awards, Polled in PTB's "Best Non-Canon Pairing Fic," Nom'd in the Sunflower Awards, featured in TwiFic Database's "Fic of the Week."
One year after the Cullens leave, Bella is thrown back into the vampire world in the least expected way and learns that Edward is not her mate. Pulled in different directions, with nothing being as it seems or what she thought, Bella will need to rediscover herself and where she stands. Yet, Bella is not the only one that has a past or emotions and circumstances that govern her. Unknown history is learned, especially by the Quileute. Secrets and betrayals are revealed, and by more than just a couple of the Cullens. Where love is found and bonds are broken, a war is brewing. And in the midst of another ancient war, what will be the most dangerous weakness? Love? Greed? Family? Old hate? Forgiveness? Will it be everything that makes you, you?
Categories:
AU
Characters:
Alec
,
Alice
,
Aro
,
Athenodora
,
Bella
,
Bree
,
Caius
,
Carlisle
,
Charles
,
Charlie
,
Charlotte
,
Demetri
,
Edward
,
Eleazar
,
Embry
,
Emmett
,
Esme
,
Felix
,
Garrett
,
Heidi
,
Irina
,
Jacob
,
Jane
,
Jared
,
Jasper
,
Kate
,
Leah
,
Makenna
,
Marcus
,
Other Character
,
Paul
,
Peter
,
Quil
,
Rosalie
,
Seth
,
Stefan
,
Tanya
,
Vladimir
Challenges:
Series:
None
Chapters:
13
Completed:
No
Word count:
80561
[Report This] Published:
March 04, 2011
Updated:
January 22, 2012
---



© 2008, 2009 Twilighted Enterprises, LLC. All Rights Reserved.
Unauthorized duplication is a violation of applicable laws.
Privacy Policy | Terms of Service


All publicly recognizable characters, settings, etc. are the intellectual property of their respective owners. The original characters and plot are the property of Stephenie Meyer. No copyright infringement is intended.