Your donations help keep this site running,
thank you very much for the support!

Penname:
Data Girl 3 [
Contact
]
Real name:
Katherine
Status:
Member
Member Since:
January 15, 2011
Website:
Beta-reader:
I am a Christian, born and raised. However, please don't assume that automatically makes me a Bible thumper or anything like that, because I'm not. I don't go around forcing my beliefs on others, and despite what some people of my faith might say, I'm not really convinced homosexuality is a sin.




I will also say that I'm a firm believer in Extraterrestrials and the paranormal, from ghosts to cryptids, and I'm not ashamed to admit that to anyone who asks.




I was not always interested in Twilight. When I first heard about the novels, I simply dismissed it as 'just another vampire story'. For that reason, I had no interest in reading them, since I was not really into vampires. (In fact, I'm still not into the whole vampire genre, but Twilight is an exception.) It was my best friend, who'd already read the first book and enjoyed it, who really introduced me to the saga. The fact that said best friend had disliked reading for fun at that point in time was enough to convince me that the books were worth looking at. Ever since then, I've been a Twilight fan, and I'm eagerly looking forward to the first Breaking Dawn movie.




Current Stories






[
Report This
]
Carnival of Darkness
by
Data Girl 3
Rated:
PG-13
[
Reviews
-
44
]
Summary:
While out hunting, a mysterious fog somehow sends half of the Cullen family back to the year 1687. In their attempts to return to their own time, they learn of a plot that might ultimately endanger the very future of all mythical creatures.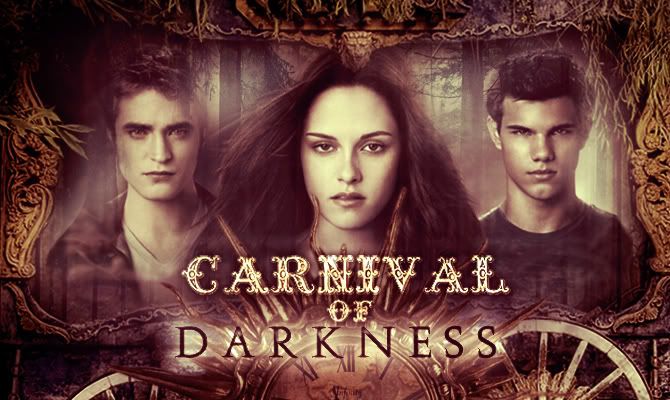 Categories:
Post-Breaking Dawn
Characters:
None
Challenges:
Series:
None
Chapters:
19
Completed:
Yes
Word count:
65434
[Report This] Published:
January 24, 2011
Updated:
October 14, 2014
---



© 2008, 2009 Twilighted Enterprises, LLC. All Rights Reserved.
Unauthorized duplication is a violation of applicable laws.
Privacy Policy | Terms of Service


All publicly recognizable characters, settings, etc. are the intellectual property of their respective owners. The original characters and plot are the property of Stephenie Meyer. No copyright infringement is intended.