Your donations help keep this site running,
thank you very much for the support!

Penname:
CJ1130 [
Contact
]
Real name:
Casey
Status:
Member
Member Since:
August 03, 2010
Website:
Beta-reader:


[
Report This
]
Morals Be Damned
by
CJ1130
Rated:
R
[
Reviews
-
17
]
Summary:
Awesome banner by SoapyMayhem!
1860's Texas, ransacked by an impending civil war and famine. Jasper Whitlock is a dedicated, talented commanding officer of his fleet. He is prepared to die for the cause and for freedom, honor and pride. However, things take a nasty turn when he is wounded in an ambush. Left to die in a lonely field, he believes that the end if his life is nearing. He soon awakens healed of all injuries within the cottage of a female stranger, who holds much more secrets than meets the eye.
The young and beautiful Mary Alice Brandon is a young mother, ostracized in her community and feared for her strange visions. Some say it is the devil's work, others say she is just loony. Speculations of witchcraft force the family to live in fear. However, when tensions run high and accusations run too far, what will become of Alice? How will her daughter, Eliza fare? Will Jasper stay and help the woman that saved his life, or return to his band of comrades? Could a romance develop between such totally different individuals?
Categories:
AU-Human
Characters:
Alice
,
Jasper
Challenges:
Series:
Eternal Hope: The Alice and Jasper Archive
Chapters:
5
Completed:
No
Word count:
11836
[Report This] Published:
September 12, 2011
Updated:
January 18, 2013
Summary:
AU Takes place after Eclipse.
Jacob Black is a broken soul after the love of his life chooses a vampire over him for the final time. He decides to leave Forks to do some 'soul searching'. He is hopeless, believing that Bella was his one and only love... maybe even his imprint, that his chance at happiness is gone forever. He leaves his home a changed man, guarding himself by shutting out those close to him.
Suddenly everything he once knew is changed, as he starts a new life for himself in Oregon with new friends a job and a relationship! Is it an imprint?
Ellie Fulton is a local waitress with a knack for mechanics and a wild, fiesty attitude. Will she allow Jacob into her life after being burned one too many times? Will Jacob decide to go back to the Reservation or start anew?
If he does, the only thing that can threaten his joy and family secret is the presence of Bella Swan and a new enemy who is closer than he appears to be...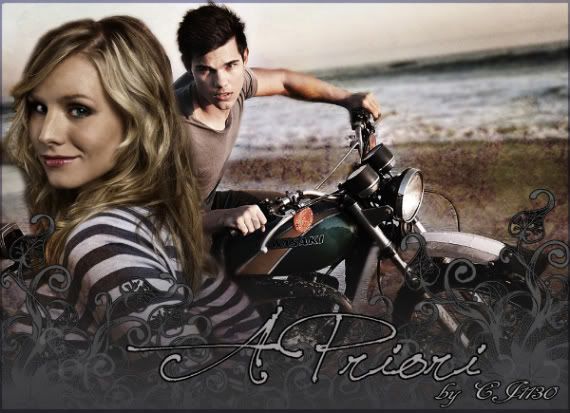 Awesome Banner by SoapyMayhem!
Wicked Banner by Evenstar!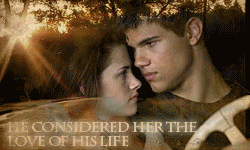 Categories:
Post-Eclipse
Characters:
Bella
,
Billy
,
Edward
,
Jacob
,
Jared
,
Leah
,
Quil
,
Sam
,
Seth
Challenges:
Series:
The Imprinting Game
Chapters:
22
Completed:
No
Word count:
81622
[Report This] Published:
September 20, 2010
Updated:
February 14, 2012
---



© 2008, 2009 Twilighted Enterprises, LLC. All Rights Reserved.
Unauthorized duplication is a violation of applicable laws.
Privacy Policy | Terms of Service


All publicly recognizable characters, settings, etc. are the intellectual property of their respective owners. The original characters and plot are the property of Stephenie Meyer. No copyright infringement is intended.