Your donations help keep this site running,
thank you very much for the support!

Penname:
SwimmingBee [
Contact
]
Real name:
Status:
Member
Member Since:
June 01, 2010
Website:
Beta-reader:
Some random things I like, in no particular order... My husband, making cupcakes, travelling, sleeping in, drinking vodka, swimming, Robert Pattinson, shopping, Empire Records, stripy socks, summer, Dirty Dancing, Jake Gyllenhaal, pretty scarves, my cat, playing on Twilighted!
Come play on Twitter - SwimmingBee1



[
Report This
]
Days Like This
by
SwimmingBee
Rated:
NC-17
[
Reviews
-
1759
]
Summary: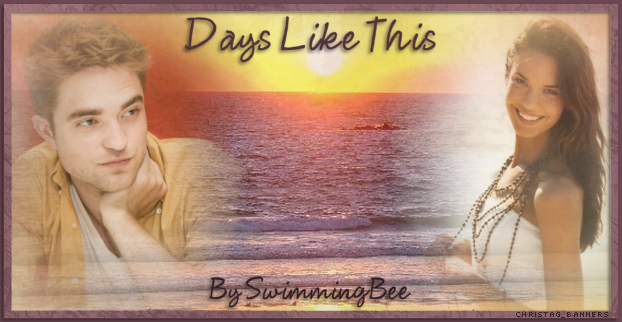 24 year old school teacher, Gemma Taylor, is excited. It's officially summer vacation and she and her friends have big plans for a fun girls' night out. She has no idea who she is about to meet and how much her life is going to change...
Will Robert Pattinson be everything she needs? Or will he break her heart?
A huge thank you to the fabulous Christine30974 for the above banner, and to the very talented RainerNight for the beautiful new banner below!
Days Like This was the winner of the Spring 2011 Faithful Shipper Awards in the categories of...
'Best RPF Story - Actor / Other Character' and 'Best RPF Author'!
Thanks so much to those who voted!
Categories:
Other
Characters:
Robert Pattinson
Challenges:
Series:
None
Chapters:
46
Completed:
Yes
Word count:
332445
[Report This] Published:
June 13, 2010
Updated:
April 19, 2011
---



© 2008, 2009 Twilighted Enterprises, LLC. All Rights Reserved.
Unauthorized duplication is a violation of applicable laws.
Privacy Policy | Terms of Service


All publicly recognizable characters, settings, etc. are the intellectual property of their respective owners. The original characters and plot are the property of Stephenie Meyer. No copyright infringement is intended.