Your donations help keep this site running,
thank you very much for the support!

Penname:
Alaska Rose [
Contact
]
Real name:
Alaska
Status:
Member
Member Since:
April 08, 2010
Website:
beforethecurtainrises.blogspot.com
Beta-reader:
Yes



Hi! I'm Alaska Rose, but am more commonly referred to as "Ala". It's not my real name, but I've answered to Ala so often online that I probably would do so in real life.




Anyway, a little about me: I'm eighteen years old and a freshman in college. I am Filipino and stand at 4'10" tall. (I often wonder whether Stephenie Meyer actually knew how short she was talking when she made Alice my height.) I am an avid reader and writer, and I have a passion for musical theatre. I tend to go through phases in which I am completely and totally obsessive about whatever holds my interest at a given time. The most notable phases I've had are: Harry Potter - age 9 to present, West Side Story - ages 12 to 15, Twilight - ages 17 to present, and most recently, Wicked (the musical) - starting last December the 18th.




I am also an avid roleplayer and am always on the hunt for good RP sites.






[
Report This
]
Hope Springs Eternal
by
Alaska Rose
Rated:
PG-13
[
Reviews
-
9
]
Summary: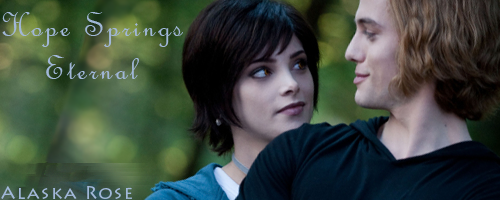 "You held out your hand, and I took it
without stopping to make sense of what I was doing.
For the first time in almost a century, I felt hope."
-Jasper Whitlock Hale, Eclipse, page 301
* * * * *
An Alijazz chronicle. If all goes well, it should extend until the end of the saga.
Set during the saga, with little excerpts here and there from their pasts.
Told from both Jasper and Alice's points of view, depending on whichever one I decide seems to fit best for each chapter.
Rated PG-13 for upcoming planned chapters; may change if my muse so requires.
Categories:
Pre-Twilight
,
Twilight
Characters:
Alice
,
Jasper
Challenges:
Series:
Eternal Hope: The Alice and Jasper Archive
,
Practically Canon
Chapters:
1
Completed:
No
Word count:
1054
[Report This] Published:
June 17, 2010
Updated:
July 12, 2010
---



© 2008, 2009 Twilighted Enterprises, LLC. All Rights Reserved.
Unauthorized duplication is a violation of applicable laws.
Privacy Policy | Terms of Service


All publicly recognizable characters, settings, etc. are the intellectual property of their respective owners. The original characters and plot are the property of Stephenie Meyer. No copyright infringement is intended.